NCAA Tournament recaps: Duke cruises to Sweet 16, West Virginia gets date with Kentucky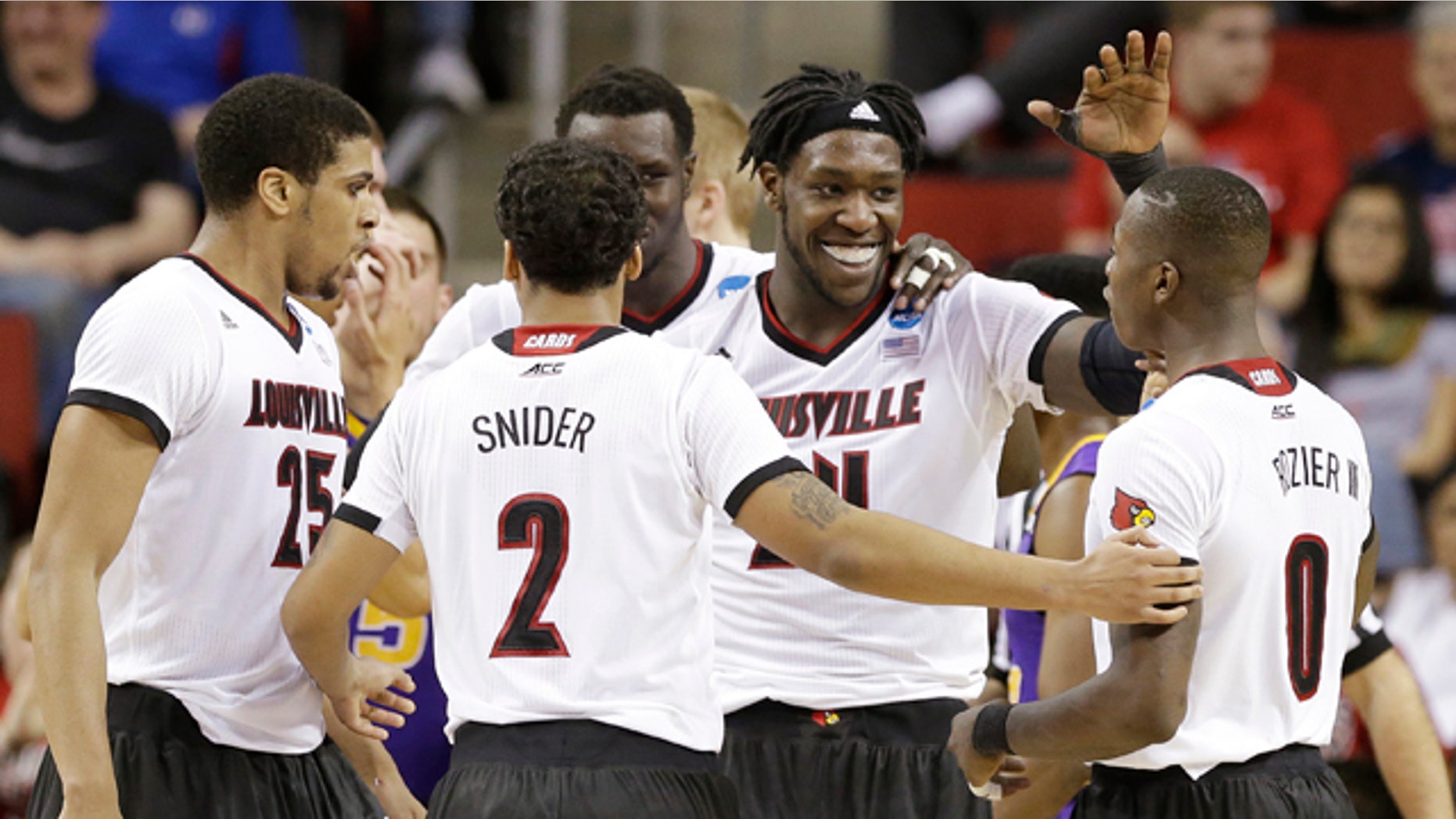 The final eight entrants in the Sweet Sixteen of the NCAA Division I Men's Basketball Championship were decided Sunday. Here's a round-up of the action.
EAST REGION
OKLAHOMA 72, DAYTON 66
COLUMBUS, Ohio (AP) -- Jordan Woodard had 16 points and Buddy Hield scored 15, helping Oklahoma advanced to the second weekend of the tourney.
Coach Lon Kruger became the second coach to take four schools (Kansas State, Florida and UNLV) to the round of 16. Third-seeded Oklahoma (24-10) will play Michigan State on Friday at the East Regional in Syracuse, New York.
The Flyers (27-9), who started in the First Four at home, came up a victory short of their second straight trip to the Sweet 16 as an 11 seed.
Oklahoma rallied with its defense, holding Dayton scoreless for 9:04 and without a basket for 10:32 in the second half.
Scoochie Smith led Dayton with 16 points.
LOUISVILLE 66, NORTHERN IOWA 53
SEATTLE (AP) -- Louisville is headed to the Sweet 16 for the fourth straight year.
Terry Rozier scored 25 points to lead the fourth-seeded Cards to the victory. Montrezl Harrell added 14 for Louisville (26-8), including a couple of game-sealing alley-oop jams on passes from Rozier.
The Cardinals will play eighth-seeded North Carolina State on Friday in an East Region that is now missing the top two seeds.
The Cardinals packed it in against Northern Iowa's top scorer, Seth Tuttle, holding him to 14 points and only seven shot attempts. The Panthers (31-4) were trying for their first trip to the second weekend since 2010.
SOUTH REGION
DUKE 68, SAN DIEGO STATE 49
CHARLOTTE, N.C. (AP) -- Jahlil Okafor scored 18 of his 26 points in a dominating first half and Duke beat San Diego State 68-49 on Sunday in the NCAA Tournament, sending the top-seeded Blue Devils back to the Sweet 16.
Fellow freshman Justise Winslow added 13 points and 12 rebounds for Duke (31-4), which for the second straight tournament game ran out to a quick lead and stayed in control the rest of the way.
Duke -- holding a No. 1 seed for the 11th time in 18 seasons but its first since 2011 -- advanced to face fifth-seeded Utah in Houston's South Region semifinals.
Mike Krzyzewski's Blue Devils are pushing for their 12th Final Four and completed their two-game stay in their home state with a pair of hot-shooting wins.
Duke shot 55 percent against the eighth-seeded Aztecs (27-9), two days after shooting 63 percent against Robert Morris.
GONZAGA 87, IOWA 68
SEATTLE (AP) -- Kyle Wiltjer scored 13 of his 24 points during Gonzaga's flawless first half, helping the Bulldogs advance to the round of 16 for the first time since 2009.
After five straight departures on the first weekend of the NCAA tourney, Gonzaga (34-2) is back in the regional semifinals, thanks to an efficient offensive performance in the first 20 minutes that Iowa could never overcome. Domantas Sabonis finished with 18 points.
Jared Uthoff led Iowa (22-12) with 20 points, and Aaron White had 19.
Wiltjer was nearly perfect. He made 10 of 12 shots and 4 of 6 3-pointers. His 24 points came in just 25 minutes.
MIDWEST REGION
WEST VIRGINIA 69, MARYLAND 59
COLUMBUS, Ohio (AP) -- Devin Williams had 16 points and 10 rebounds, and rugged West Virginia advanced to a Sweet 16 showdown with undefeated Kentucky.
Gary Browne scored 14 points and Daxter Miles Jr. had 12 as West Virginia reached the second weekend of the tournament for the first time since 2010, when it went all the way to the Final Four. The fifth-seeded Mountaineers (25-9) will take on the Wildcats on Thursday night in the Midwest Regional semifinals in Cleveland.
Melo Trimble had 15 points for Maryland (28-7), but sat on the bench for the final 8:25 after he was hurt for the third time in the game.
Maryland was trying to advance to the round of 16 for the first time since 2003 -- a year after the Terps won the national championship under coach Gary Williams.
The teams were locked in a close battle until West Virginia used its gritty pressure defense and physical play to pull away from the Terrapins.
WEST REGION
WISCONSIN 72, OREGON 65
OMAHA, Neb. (AP) -- Sam Dekker scored 17 points for balanced Wisconsin, which beat Oregon in the round of 32 for the second straight year.
Next up for the Badgers (33-3) is a trip to Los Angeles to play fourth-seeded North Carolina in the Sweet 16 on Thursday.
Wisconsin played with the lead all game until Dwayne Benjamin tied it at 52 with a high-arcing 3-pointer from in front of his bench with 5:27 left. But Dekker responded with a reverse layup and 3-pointer to make it 58-52.
Joseph Young, who scored 27 points in a win over Oklahoma State on Friday, had 30 against the Badgers.
Wisconsin got 16 points from Frank Kaminsky, 14 from Nigel Hayes and 12 from Bronson Koenig.