NCAA Tournament: March Madness Odds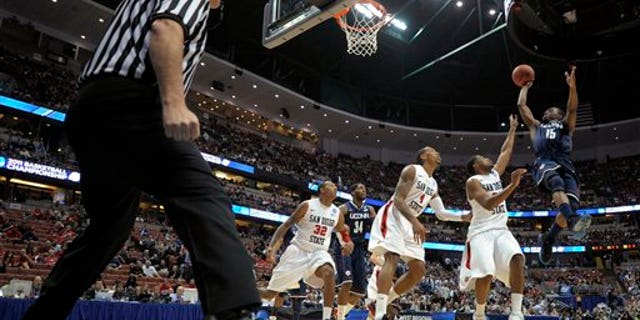 Here we are again… another year and another 68 teams in a who's who of Men's college basketball that will determine one "national" champions to rule the wooden courts for one whole year.
Unfortunately, I am not a bracket-ologist nor am I someone who has ever felt comfortable with picking 1 team to win out of 68 chosen teams.
I like a small majority of Latinos am a "gut" guy. I pick on hunches, feelings, fire in the eyes. That's how I roll.
So when I saw that the odds makers had put out the numbers, the odds for teams to win the tournament I decided that I'd let you know what sleepers I'd pick, what favorites I'd favor and if that didn't satisfy you I'd talk to my amigo Dan Bank from Fox News (he nails it every year) to give you a gamblers chance of picking a winner for this March Madness tournament.
Here are the lucky seven picks.
Kentucky 7-2
The odds makers give them the advantage but I say that's a disadvantage. Kentucky just lost the SEC championship to Missouri. They have shown a weakness to a national audience and their 24 game win streak is over. A loss that close to the tournament often can mess with a team, as much as people will say this is an obvious pick… I don't think they'll be cutting down the nets this year but they have the best odds out of any team.
North Carolina 9-1
North Carolina is tough and the Tar Heels want to showcase their team in the big game. This is Dan Bank's pick as the most likely #1 seed to hang around to the end. Odds are if you're putting money down on North Carolina it's as safe as gambling can be.
Michigan St. 10-1
It may be coach Tom Izzo's year. Bank and I both believe that the Spartans could walk out of this thing as the National Champs and you can't count them out. I think that while everyone has been distracted by Kentucky and North Carolina the Spartans can creep up and dominate this tournament.
Vanderbilt 40-1
Comedian (and friend) Nate Bargatze's harrowing tale of triumph and cheering at a Canadian airport in victory as everyone stared brought a tear to my eye. Bargatze like many Vanderbilt fans have been long suffering for basketball glory. Bank and I agree with Bargatze that that Vandy has a chance this year to upset everyone and make their way to the Final Four.
Wichita St. 45-1
A popular upset pick and a team to watch out for. Usually I don't like to pick the consensus underdog but even Bank says you can't ignore them. Their mascot is the WuShock and for some reason a lot of people think they have what it takes to get to the Final Four.
St. Bonaventure 300-1
There's one every year. The Bonnies from near Allegany, NY with their 2,400 students and their big dreams hope they can upset the big boys and take home the trophy. The Franciscan affiliated school is a long shot but right now they have everyone looking them up on Google.
VCU 300-1
Why is Virginia Commonwealth University still a long shot? I don't think they are not after last year when critics mocked the schools selection and they went all the way to the Final Four. I think they may be this decades Gonzaga and I think they may make it back and shock the nation again.
The views in this piece are the opinion of the author and should not be used for gambling purposes.
Follow me on twitter @MrVicGarcia
Follow us on twitter.com/foxnewslatino
Like us at facebook.com/foxnewslatino