NCAA PRO-file with Martin St. Louis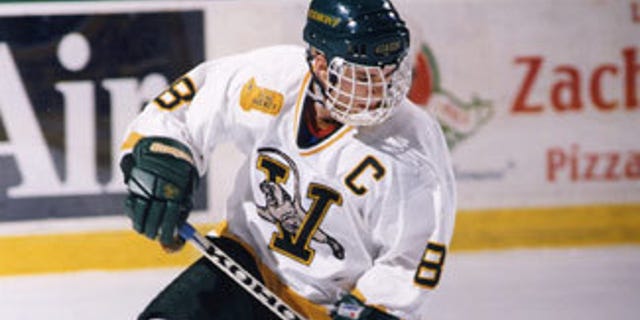 Is Martin St. Louis among the greatest over-achievers in NHL history? That's up for debate, but there is no question he's right there in NCAA history.
"I've dedicated my life to being a hockey player," said St. Louis, "and the truth is I'm so focused on being a hockey player. That comes from a kid dream just trying to accomplish being the best you can."
St. Louis is hands-down the best scorer in the history of the University of Vermont, a two-hour drive from his hometown of Laval, Que.
"I felt like I could step in right away and get quality ice time," St. Louis said of his decision to play at Vermont. "It was near my house and I loved the campus and the Gutterson Fieldhouse. When I first saw a game there it was electrifying.
"Mike (Gilligan, coach) did a good job of recruiting me. 'This is what I'm looking for,' I said. Probably not as high-profile a program at the time, but they were coming on. For me it was going somewhere to make a difference."
What a difference St. Louis made during his four seasons there, 1993-97.
His numbers are a jaw-dropping total of 91 goals and 176 assists for 267 points in 139 games, including appearances in the 1996 and 1997 NCAA tournaments.
The '96 run ended in Vermont's first-ever Frozen Four appearance, a punch-in-the-gut, double-overtime semifinal loss to Colorado College. The game was played on a slushy ice surface in Cincinnati, with the winning goal a dubious ending.
"For sure," said a still-stung St. Louis about that outcome. "We ended up losing on a hand pass. It's a tough way to lose, but, hey, it was Vermont playing No. 1 in the country Colorado College at the time. And we lose in overtime on a hand pass. That was a big step for the program -- my best year when I was there. It was a great experience."
St. Louis and his senior teammates' last game in 1997 was a first-round loss to Denver.
One teammate is current Boston Bruins goalie Tim Thomas.
"Him and Eric Perrin had incredible chemistry," Thomas said of his four-year front-row-seat for St. Louis' progress at Vermont -- and now for most of the Lightning standout's pro career.
"Right from my freshman year with captain's practice, I was like, 'Are you kidding me?'" said Thomas. "To be honest, I was skeptical about carrying it over into the game because of their size. Halfway through that first year, there wasn't any question they could do it. What's made Marty successful in college and (in the NHL) is he's always trying to get himself better. He was always trying a new move in practice. Just work on it and work on it until it became part of his game."
After his junior season, NHL offers came for the undrafted St. Louis.
"I had offers to leave after my junior year," he said, "but didn't take them. I wanted to get the degree; the money then was not like now. After you pay taxes and maybe buy a car, there's not much left. It wasn't worth it."
Surprisingly, the offer well went dry after a senior season that saw him score 60 points in 36 games and also serve as team captain.
"Unfortunately there was nothing. It just didn't happen," St. Louis said. "Yeah, it was probably, 'He's too small to play in the NHL.' It was definitely an issue back then; now it's not.
"Obviously, there's a lot of people out there who wish they jumped on it. They had the opportunity."
Calgary took the opportunity several months later.
"I knew Marty could do it," said Thomas. "Maybe surprised it took so long to get that first chance in Calgary."
From 1997-2000, St. Louis' career was an up-and-down bounce across the IHL, AHL and NHL. Things finally changed when he signed as a free agent with the Lightning in 2000.
"To get to the NHL," said St. Louis, "there are different layers of play you need to get to and prove to yourself before this goal is really attainable. It's like a funnel going up to the top. I said, 'Just keep doing what I've been doing all my life.' Dreams keep you going as reality sets in at different times when you struggle.
"I'll always be grateful for the Flames; they're the only team that gave me a chance after college. When they cleaned house in management and had some first-rounders coming up, somebody had to go.
"There were a couple teams after I was let go, but I thought here (Tampa Bay) was my best chance. Tampa was close to the bottom of the League at the time and my best chance to make it at this level."
What were and are the keys to his making it?
"It's about being a professional," he said. "You get out on the ice and play regardless of what's going on around you. You got to fight for respect. The tough years, they're the ones that define you as a player -- builds character, and makes you appreciate the good times. It prepares you more for adversity than when things are going well."
Things are going well for St. Louis and Tampa Bay. He helped the Lightning win the Stanley Cup in 2004, taking home the Hart and Art Ross trophies that season.
He signed a six-year contract in 2005, and with that deal set to expire after this season, new Lightning GM Steve Yzerman, in one of his first decisions, signed the 35-year-old to a four-year extension July 1.
St. Louis is making that look like a smart decision. In 76 games, he's second in the League with 62 assists and 91 points. He's on pace to play all 82 games for the fifth straight season and the seventh time in eight seasons.
"I only missed one game to injury at Vermont," said St. Louis about his durability, while knocking on a wooden column. "Obviously luck is involved, but you need to prepare yourself in the offseason and how you handle yourself during the season. We all play with a bunch of bruises in this League, no doubt."
What's left for St. Louis still to accomplish?
"With a four-year contract, people ask me all the time what comes next," he said. "I want to win another Cup. That's what's next. Sometimes it's not the most talented team that wins, it's the best team. When we won the Cup in '04 it was kind of like that. We didn't have a lot of superstars -- we had a lot of good players and played well as a team. That's what wins championships."
What's the Vermont connection through today?
"Looking back, I wouldn't change a thing -- the best years of my life," he said. "Vermont has always been in my life. I have a lot of friends there and keep in touch, try to make it up there every summer."
With three young boys, St. Louis' future may bring him back to the Green Mountain State even more often.
"That's where they want to go," he said. "That came out this past year. They told me they want to play at Vermont."