NCAA announces penalties in Louisville recruiting scandal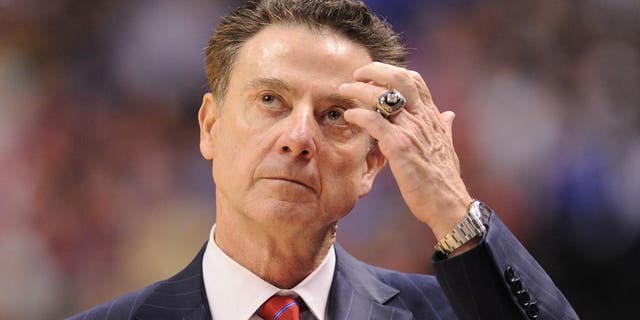 NEWYou can now listen to Fox News articles!
The NCAA announced its discipline for the Louisville Cardinals basketball program Thursday morning, with coach Rick Pitino getting hit with a five-game ban in 2017-18 ACC play and the program being put on four years of probation, among other penalties.
Additionally, Louisville will have to vacate all wins from 2010-2014 forusing ineligible players, a crucial detail which could mean that their 2013 national championship banner will be removed.
The school will have 45 days to submit a report which details what games ineligible players were used
The sanctions stem from a two-year investigation into alleged recruiting violations that included strippers and escorts.
Louisville self-imposed a postseason ban during the 2015-16 college basketball season, as well as a reduction in scholarships. However, Pitino and the university chose to contest the violation that Pitino failed to monitor former assistant Andre McGee. Pitino has maintained that he was unaware of any of the alleged violations and incidents.
From the NCAAs report:
A former Louisville director of basketball operations acted unethically when he committed serious violations by arranging striptease dances and sex acts for prospects, student-athletes and others, and did not cooperate with the investigation, according to a Division I Committee on Infractions panel. The head mens basketball coach violated NCAA head coach responsibility rules when he did not monitor the activities of his former operations director.
Louisville with hold a news conference this afternoon to respond to the ruling.