NBA tryout gimmick a win for no one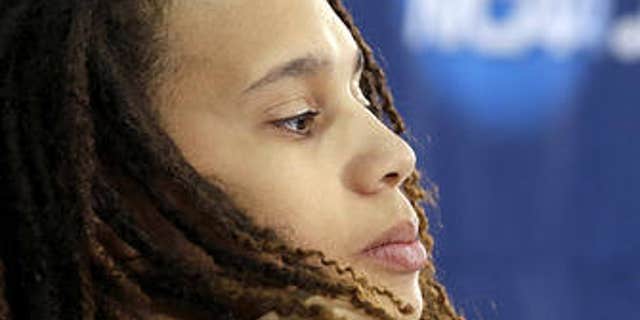 My favorite cliche/life lesson comes to mind when I think of Mark Cuban, Brittney Griner and everyone else clamoring for the Baylor women's hoops star to try out for the NBA:
The road to hell is paved with good intentions. There are no bad guys in this silly story regarding Griner trying out for the Dallas Mavericks.
Mark Cuban is just being Mark Cuban -- irreverent, open-minded and self-promoting. Griner is just being a typical 22-year-old -- easily led, afraid of nothing and foolish. Nancy Lieberman and Ann Meyers are just thinking like big-time, super-successful athletes -- their success makes them believe they can conquer anything. And the journalists? Well, we're just reflecting the way we were trained to think -- politically correct, simple and convinced that equality equals women being men.
Everybody involved in this manufactured publicity stunt has the best intentions.
So did the owners of the Kentucky Colonels, the Neil Armstrong of professional basketball teams, by first giving women a shot to play with the boys. In 1968, caught in the spell of a tiny sexist coma, the all-male jockeys at Churchill Downs boycotted the three races that 5-foot-3, 110-pound jockey Penny Ann Early entered. The owners of the ABA Kentucky Colonels responded by forcing their coach to suit up Early in a cheerleading outfit and play her in a game. She threw an inbounds pass to a teammate who promptly called a timeout. Early's basketball career ended before she touched the court.
Her participation in the ABA did not promote the cause of women. It promoted, for one night, attendance at a basketball game in a struggling league.
The same is true for Ann Meyers' history-making, three-day NBA tryout with my hometown Indiana Pacers. I remember it all too well. The Pacers were owned at the time by a Beverly Hills millionaire/charlatan, Sam Nassi. The franchise was poorly run, poorly coached (and I love Slick Leonard) and a ticket-window nightmare. Just three years removed from a local telethon to "save the Pacers," Nassi gave his UCLA neighbor Ann Meyers a $50,000 personal-services contract in 1979 to draw media attention to the Pacers -- oops, I mean try out for the Pacers.
It was a joke. The 5-9, 140-pound Meyers was completely overmatched on one of the worst NBA teams ever assembled. Again, I'm not denigrating Ann Meyers. She was a great player. And the tryout strengthened her brand and etched her name in history.
"It was an opportunity of a lifetime," Meyers told me Thursday morning. "Yes, publicity was involved. But my whole life was playing basketball, and I was doing nothing different. I had always played against the boys. In my mind, because of who I am, and how I grew up, I believed I could play against guys."
Not in the NBA. Not in 1979. Given her level of accomplishment, I don't fault Meyers for the irrational thought. Hell, I believe I should be married to Sonya Curry and the world would be a better place if Steph and Seth were my sons, not Dell's.
Meyers' tryout did nothing for the women's game or the women's movement.
The same would be true for Griner. But, in this case, there would be zero benefit for Griner's brand. Brittney isn't a dainty, little blonde girl taking on the big black behemoths who populate NBA rosters. Brittney is 6-8, black and the target of social-media assholes of every color who question and ridicule everything about her, including her sexuality. This wouldn't be pretty.
"Yes, being a 6-8 black woman, that will be very difficult," said Meyers, who characterized Cuban's "invitation" as a total positive for Griner and women. "I blocked everything out. I spoke only to people who were positive in my life. There is a loneliness to do this thing, because it will be ugly and it won't stop."
On Tuesday, Baylor coach Kim Mulkey was remarkably candid with me during a 40-minute podcast interview . We taped the interview before Cuban's mention of a tryout went viral. But Mulkey and I talked about the vicious and degrading attacks Griner endured during her four-year career at Baylor.
"I can tell you the things that she's had to hear, and she has heard and I'm sure read, she handles it better than you and I probably could or would," Mulkey said. "The thing I go back to is none of us walk in her shoes. Probably people think that here's this 6-8 phenom, she's going to make millions of dollars in basketball, but, y'know, with that comes a lot, a lot, of heartache. People forget all the things she has to hear and she has heard. I don't know that I would want that in my life."
Mulkey also made an interesting observation about Griner that perhaps explains why Griner quickly tweeted acceptance of Cuban's invitation.
"She doesn't really care about the things that you and I want her to care about," Mulkey said of Griner. "For example, I want Brittney to get that college degree, y'know, and Brittney just looks at me like, 'Coach, really, what is that college degree gonna do for me?' ... You get aggravated because you want her to see it through your eyes. ... She just lives in the moment and just has that free spirit about her."
Griner is young and gifted. She can't see the big picture.
OK, let's move beyond Griner's personal sacrifice and unsurprising lack of self-awareness. If she wants to deal with the crap of participating in Cuban's hypothetical ploy, it's America and she can walk barefoot on broken glass.
The truth is, it's preposterous for anyone to believe she can play in the NBA. Has Cuban ever seen her play? She is a marvelous women's basketball player. I enjoy watching her play among her peers. But she doesn't have one skill that translates to the NBA. A marginal, 6-1 Louisville frontcourt player blew by Griner at the end of Sunday's upset loss and drew the game-winning foul in the paint.
Thirty-five-year-old Brian Scalabrine, wearing a smoking jacket, would come out of retirement and light up Griner like a Times Square Christmas tree. Kwame Brown would put up 50 and 20.
"I think it would be a sham," UConn coach Geno Auriemma said Wednesday. "The fact that a woman could actually play right now in the NBA and compete successfully against the level of play that they have is absolutely ludicrous."
While still maintaining that someday a woman will play in the NBA, even Meyers reluctantly acknowledged that Griner plays the wrong position.
"There's always an exception to the rule," Meyers said. "I believed I could play. If a woman plays in the NBA, it would have to be a guard, someone who plays on the perimeter. It is a very physical game on the inside."
This tryout would diminish Griner and the women's game. Serena Williams doesn't have to compete against the men to be recognized as an amazing, must-see athlete. Flo-Jo didn't have to beat Carl Lewis.
It's 2013. Women don't have to compete against men to legitimize women's basketball, particularly women's college basketball. At the collegiate level, their game is on the rise. They just need the courage to seize the momentum started by Pat Summitt, given steam by Auriemma's dominant UConn squads and pushed into high gear by Griner.
Don't fall for the okeydoke and get caught up in a man-made gimmick.
Listen, Cuban is no more or less sexist than I am. He's just unaware that his attempt to consider the "right thing" in this instance is sexist. He's paving a well-intentioned road to hell. Men, particularly white American men, have been trained to think whatever they do is the gold standard. In a man's mind, there is no equality until you're able to do what we're doing.
Women should reject this thinking and bring their own sensibilities and standards to the world to create balance and proper perspective. Men have made a (freaking) mess of the world. Look around. Left in control of the entire planet, we've screwed up. And now we've convinced women the solution is for more of them to think the way we do. No wonder Internet porn is so popular!
Seriously, Michelle Wie had a chance to be the Tiger Woods of the LPGA. She took on the men and disappeared.
Brittney Griner isn't the Jackie Robinson of women's basketball, and the women's movement isn't the civil-rights movement. Black people were fighting separate but wholly unequal. Separate but equal -- especially in athletics -- works for women.