NBA Summer League recap: Timberwolves 93, Suns 83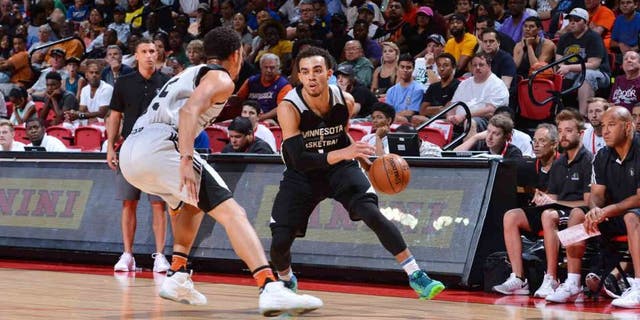 NEWYou can now listen to Fox News articles!
The improbable run continues.
The Minnesota Timberwolves used a 17-3 run in the second half to overtake the Phoenix Suns and win a semifinal game in the NBA Summer League in Las Vegas on Sunday.
The Wolves, who were the No. 24 seed in the tournament after going 0-3 in pool play, will now play for the Summer League title.
Tyus Jones led Minnesota with 29 points while Adreian Payne had another double-double, scoring 18 points and pulling down 10 rebounds.
Starting five: Once again, Xavier Silas and Devin Thomas started at forward, Payne was at center and Scott Suggs and Jones manned the backcourt.
Draft-pick report: Kris Dunn remained sidelined due to a concussion. That has allowed last year's first-round pick Tyus Jones to play more, and Sunday the former Duke point guard played 36:17 and had six assists and three rebounds to go with his 29 points. Jones shot 9-for-17 from the field and made 11 of 13 free-throw attempts.
Stat corner: A day after making 42.9 percent of their 3-point attempts, the Wolves were just 4 of 21 (19.0 percent) against Phoenix. . . . Minnesota had 20 assists and 11 turnovers while the Suns had 13 assists and 14 turnovers. . . . The Wolves shot 46.2 percent from the field while the Suns were at 35.7 percent. . . . Minnesota's Jarrid Famous had six rebounds in 16 minutes.
Next: Championship vs. Cleveland or Chicago on Monday at 8 p.m. CT.