NBA star Blake Griffin suffers brutal knee injury, video shows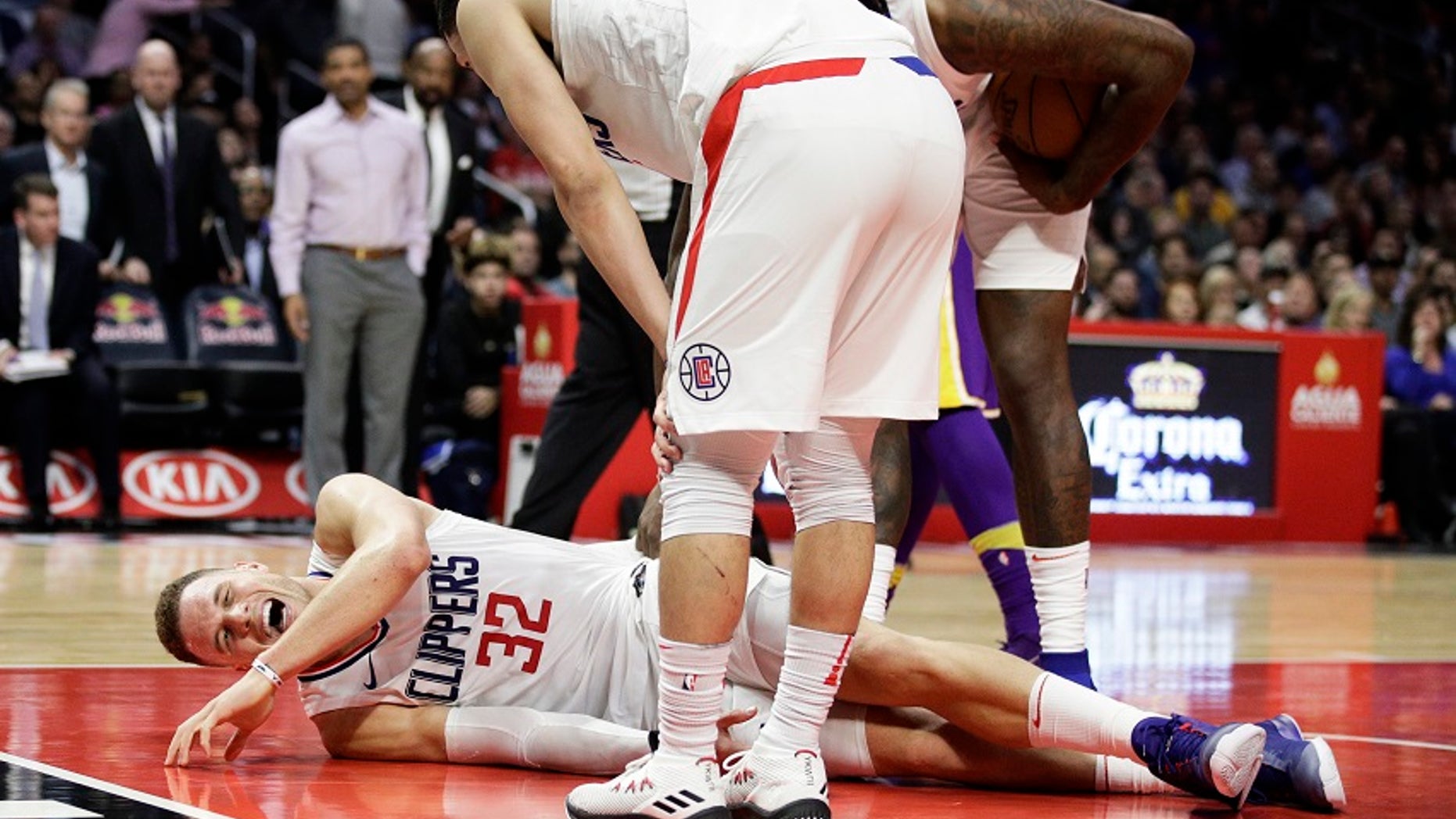 Los Angeles Clippers star Blake Griffin on Monday suffered a gruesome knee injury during a game against the Los Angeles Lakers.
Griffin, 28, fell down under the basket and clutched his left knee with a little more than three minutes left in the Clippers' 120-115 victory. Griffin was attempting to grab a loose ball with teammate Austin Rivers and Lakers rookie Lonzo Ball.
Rivers appeared to have fallen on Griffin, whose knee got twisted as he landed on his back. Griffin got up, but soon left the game and the court.
COURT DISMISSES LAWSUIT FILED BY WIDOW OF EX-MLB PITCHER FIDRYCH
The team said Griffin would be examined Tuesday but was listed as day-to-day.
"It didn't look good, obviously," Clippers coach Doc Rivers told reporters.
The Clippers have not had good luck with injuries this season. The team was already missing three star players -- Patrick Beverley, Danilo Gallinari and Milos Teodosic -- before Griffin was injured.
Since being drafted by the Clippers in 2009, Griffin has been injured numerous times in his NBA career. Last season, he missed 18 games and hurt his toe during the team's playoff series. Before that, Griffin missed most of the 2015-2016 NBA season.
OHIO STATE QUARTERBACK'S KNEE INJURY BEFORE MICHIGAN GAME PROMPTS CALLS FOR INVESTIGATION
"Right now, you're just trying to build a good basketball team," Rivers told the Los Angeles Times. "We started out like we were going to and then all this happens. I just know that there is another day. There's a next day and you coach to that day. You got to coach your guys to believe that and that's how I've always been."
The Associated Press contributed to this report.