NBA says Shelly Sterling can't own Clippers if husband is forced to sell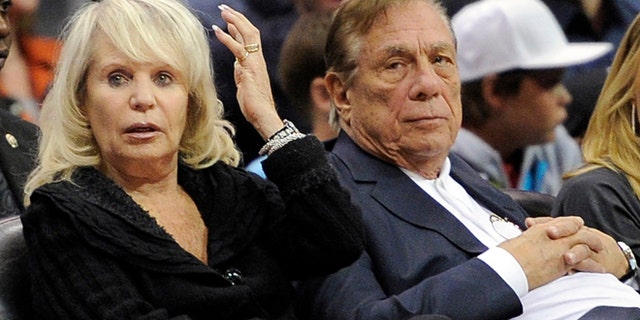 The NBA pushed back late Sunday against Shelly Sterling's assertion that she should retain her ownership stake in the Los Angeles Clippers even if the league's other owners force her estranged husband, Donald Sterling, to sell the team.
"Under the NBA Constitution, if a controlling owner's interest is terminated by a 3/4 vote, all other team owners' interests are automatically terminated as well," NBA spokesman Mike Bass said in a statement. "It doesn't matter whether the owners are related as is the case here. These are the rules to which all NBA owners agreed to as a condition of owning their team."
Donald Sterling was banned from the NBA for life and fined $2.5 million by Commissioner Adam Silver April 29 amid a furor over racist comments made by the 81-year-old owner that were recorded by a female associate. The lifetime ban is the first handed down by the NBA for an infraction not related to drug abuse or gambling and prohibits Sterling, who has owned the Clippers since 1981, from playing any part in the running of the team or even accessing its facilities.
In announcing the ban, Silver said that he would press NBA owners to force Sterling to sell the team, which can be accomplished by a vote of the other owners. However, the notoriously litigious Sterling is expected to take legal action in an attempt to hold on to the team.
In an interview with ABC News, Shelly Sterling said that it was unfair that she was being punished for the actions of her husband.
"I will fight that decision," Shelly Sterling said. "To be honest with you, I'm wondering if a wife of one of the owners, and there's 30 owners, did something like that, said those racial slurs, would they oust the husband? Or would they leave the husband in?"
ABC posted initial excerpts of the interview and planned to air the rest of it Monday.
Shelly Sterling's attorney, Pierce O'Donnell, responded to the NBA's stance in a statement also released late Sunday.
"We do not agree with the league's self-serving interpretation of its constitution, its application to Shelly Sterling or its validity under these unique circumstances," O'Donnell said. "We live in a nation of laws. California law and the United States Constitution trump any such interpretation."
Also on Sunday, Donald Sterling apologized for what he called a "terrible mistake."
"I'm not a racist," Sterling told CNN's Anderson Cooper in excerpts posted from an interview taped Sunday and also set to air Monday. "I made a terrible mistake. I'm here to apologize."
In the interview with Cooper, Sterling said years of good behavior as an owner should count toward his future.
"I'm a good member who made a mistake," Sterling said. "Am I entitled to one mistake, am I after 35 years? I mean, I love my league, I love my partners. Am I entitled to one mistake? It's a terrible mistake, and I'll never do it again."
Sterling said he waited to make a public apology because he was "emotionally distraught."
"The reason it's hard for me, very hard for me, is that I'm wrong," Sterling said. "I caused the problem. I don't know how to correct it."
He later added, "If the owners feel I have another chance, then they'll give it to me."
Shelly Sterling also said she "eventually" will divorce her husband, and that she hadn't yet done so due to financial considerations.
"For the last 20 years, I've been seeing attorneys for a divorce," she said. "In fact, I have here -- I just filed -- I was going to file the petition. I signed the petition for a divorce. And it came to almost being filed. And then, my financial adviser and my attorney said to me, `Not now."'
The Associated Press contributed to this report.