NBA Round Up: Pau Gasol, Brook Lopez & More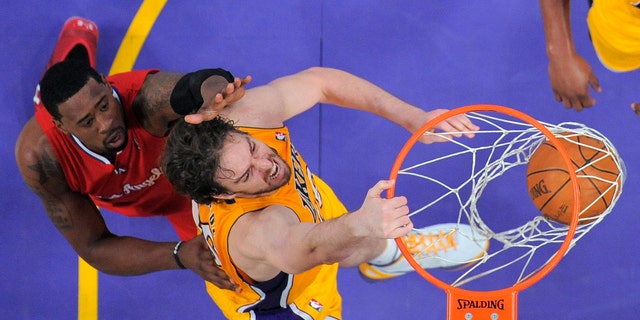 A weekly wrap up of the best Latino headlines in the NBA.
Reigning MVP Denies Gasol Rumors
Chicago's Derrick Rose denied an Internet report which claimed that the Bulls All-Star point guard gave management the okay to go ahead and seek a trade for Los Angeles Lakers power forward Pau Gasol by making Carlos Boozer part of the deal.
"I heard it after the game (Monday) and that's something that I wouldn't say to anyone. It was all false and that's something I'll never do," Rose said Wednesday night before the Bulls beat Milwaukee.
"I'm good with the teammates that I have. I've always been saying that. We've been winning games and we're not in the position to look to trade anyone right now."
Hawks Continue to Struggle
No matter how much Atlanta Hawks coach and his players stop short of making excuses for losing eight of their last 11 games, the absence of one player and perhaps two will make a difference.
The Hawks went on a hot streak after Al Horford tore his left pectoral muscle on January 11 at Indiana and is lost for the season. They won nine of 11 before hitting their recent rut, which now has them on a three-game losing skid.
"Al is greatly missed. Al is a good teammate of mine. We had a certain special thing going on down there in that paint from a physicality standpoint, the rebounding that he does," forward Josh Smith told Fox News Latino after Wednesday night's loss to the New York Knicks.
"He definitely brings a lot to this ball club. We withstood the weather you know for a little bit but know it's starting to show that we really miss him."
The Hawks have been missing center Jason Collins, who filled for Horford alongside Zaza Pachulia but has not played since February 2 because of a sprained left elbow. Joe Johnson missed last night's game after an MRI revealed that he had tendinitis in his left knee and will be held out of last night's game at home against Orlando.
"We're facing some adverse times right now. I think right now guys have to definitely step up, pull closer together and figure out how to get wins. We have to play our heart every time we step on the court," Smith said.
Lopez Open To Playing With Howard
In a perfect world Brook Lopez would give up the starting center position and team up with Dwight Howard, perhaps forming the league's top big men duo, if Howard were to sign as a free agent this summer.
For now it's only a dream as the Nets must be keeping their fingers crossed that no other team tops off any deal that they might have in place for the Orlando free agent center , if the Magic do decide to trade the All-Star center instead of letting him walk out of town like Shaquille O'Neal did when he left and joined the Los Angeles Lakers.
Orlando is 22-12, third in the Eastern Conference and must decide whether they are going to deal or ride it out.
"It would be interesting and if that's the case, no question. I wouldn't mind playing with him at all. He's an incredible talent," Lopez said with the Magic making their only visit of the year.
Nets fans showered Howard with cheers throughout the night and had cut-outs of Howard's face next to Deron Williams'.
Any trade that the Nets would make with Orlando before the March 15 deadline could definitely include Lopez and rookie guard Marshon Brooks with some draft picks in June's NBA Draft.
In his second game back since breaking a bone in his right foot, Lopez scored 15 points and had four rebounds in 28 minutes.
"I'm just trying to get out there and run. I'm trying to get back into game shape, and there's no better player in the league to go against than Dwight because he runs the floor constantly. I'm just worried about getting into the game shape and back into the flow of the game ...," Lopez said.
Ginobli Injured
According to the San Antonio Express-News, Manu Ginobili will miss the next two weeks due to a strained left oblique muscle.
Adry Torres, who has covered MLB, NFL, NBA and NCAA basketball games and related events, is a regular contributor to Fox News Latino. He can be reached at elpiloto137@gmail.com or follow him on Twitter: @adrytorresnyc.
Follow us on twitter.com/foxnewslatino
Like us at facebook.com/foxnewslatino