NBA Round Up: Melo Trying To Find His Way, Villanueva Expected To Play & More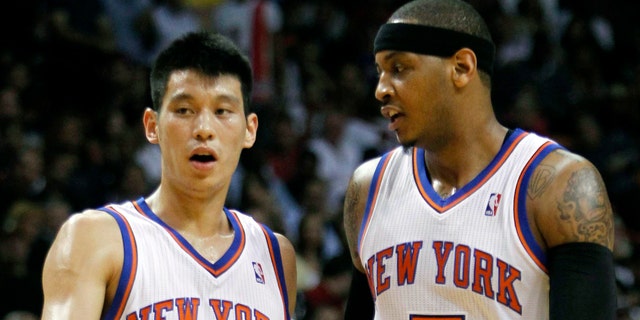 Melo lost in the Mix
Carmelo Anthony finally admitted that he is still getting used to playing without constantly having the ball in the "Linsanity" system.
"I think any time you go from the early part of the season and having the ball and distributing and now waiting for it to come to me, it's quite an adjustment for myself," Anthony told reporters after Monday's loss to the Dallas Mavericks.
If you look at the numbers: The Knicks are 9-6 ever since Jeremy Lin was inserted into the starting lineup up on Feb. 6. Without Anthony in the lineup during that stretch they're 7-1 but 2-5 with him in it. The Knicks are 11-17 in the games he has played on this season and that's if you don't count the Utah game in which he got hurt after playing just five minutes. In the games he has missed, they are 7-4.
Pretty soon diehard Knicks fans will start to wonder if they should ship him out of New York.
Anthony's comments perhaps were a call to management that he needed the ball more as evidenced by the 24 shots he took on Wednesday night at San Antonio, which resulted in another loss for the Knicks.
He shot the ball 12 times in Mavericks loss and 21 times in the loss at Boston. In the four games prior to that he shot the ball 16, 20, 16 and 11 times, respectively.
Anthony doesn't have much time to figure out whatever it is that he needs to. There are just 28 games remaining in the regular season schedule, including tonight's game in Milwaukee. The T-Wolves are three games behind New York for the eighth and last spot in the Eastern Conference playoff race.
Welcome Back Charlie?
If it was up to Charlie Villanueva, he would play in tonight's Pistons home game against the Atlanta Hawks.
"I'm going to give it a go. Pain free right now," Villanueva said after Thursday's practice.
Villanueva has not played since Jan. 4 because of an injury to his right ankle.
The forward has just played in two games and said he was not feeling any more pain.
Pistons first-year coach Lawrence Frank has not said if he would use Villanueva tonight or tomorrow but has been encouraged with the way Villanueva has fared in practices.
"He's getting the feel for playing, getting a feel for what we're doing at both ends. He continues to look better and those are encouraging signs," Frank said.
Abusing Ricky
According to the Star Tribune, Minnesota Timberwolves president of basketball operations David Khan said the Timberwolves have presented the NBA with video footage supporting the team's findings that opposing players are being a bit too rough on Ricky Rubio.
Rubio said teams are playing him tough and that in Europe "we play aggressive, too."
Timberwolves coach Rick Adelman said teams in the league finally caught up to Rubio by putting defenders that are much "bigger" than him.
"They're putting bigger guys on him. They're beating the hell out of him right now. The league has figured out you have to be physical with him," he said."
Adry Torres, who has covered MLB, NFL, NBA and NCAA basketball games and related events, is a regular contributor to Fox News Latino. He can be reached at elpiloto137@gmail.com or follow him on Twitter: @adrytorresnyc.
Follow us on twitter.com/foxnewslatino
Like us at facebook.com/foxnewslatino