NBA Round Up: Hawks' Horford, Spurs' Ginobli & Piston's Villanueva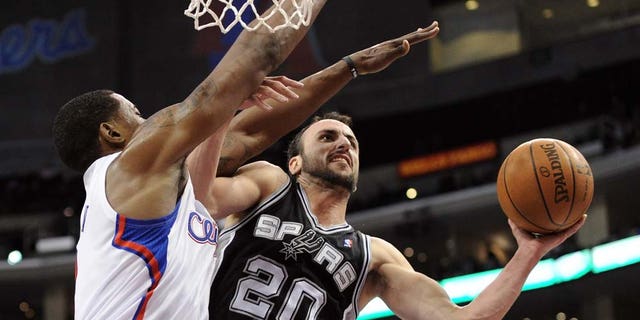 Hawks big man on the mend

Atlanta Hawks coach Larry Drew would very much like to have Al Horford come back after undergoing surgery to repair a torn left pectoral muscle.

Earlier last week when I contacted Horford, he said he would start his rehab treatments this week. He said his shoulder was doing much better. His return to the Hawk is much need as the team has struggled without him in the lineup.

"It's still a little too early to know exactly what's in store for Al this season," Drew told reporters. "But I'd be lying if I didn't tell you it was a pleasant surprise, a much-needed surprise, given the way we've struggled in his absence."

NBA to pay tribute to Latinos

The NBA announced Wednesday the schedule of this season's Noche Latina (Latin Night) program.

It's the league's way to celebrate "the growing support of NBA fans and players across Latin America and U.S. Hispanic communities," the league said in a statement.
When English and Spanish Collide, the Results Can Be Hilarious
Noche Latina debuted during the 2006-07 NBA season.

"The Noche Latina program is the perfect example of the ongoing commitment by the NBA to celebrate diversity as part of the fabric of our game," NBA Vice President of Hispanic Marketing Saskia Sorrosa said.

The Orlando Magic, Los Angeles Lakers, San Antonio Spurs, Chicago Bulls, Miami Heat, Phoenix Suns and New York Knicks are all part of the scheduled teams that will host the games that will honor Hispanic players and fans.
Villanueva sees progress

Charlie Villanueva got out on the floor early this week after the Detroit Pistons met for their first practice after the All-Star break, according to the Detroit Free Press.

The Pistons forward, who has been out with a right ankle injury, said he participated in the beginning of the practice Monday, the first time in over two months that he did any running.
From the Catwalk to the Soccer Pitch (Minus the Heels)
He said he was surprised he "wasn't as tired" as he would have expected to have been.

Villanueva last played Jan. 4 against the Chicago Bulls.

"I'm feeling real good. I went through the first 20 minutes of practice, non-contact and felt pretty good," Villanueva said.

"I'm taking it day by day from now on. I'm not trying to speed things up. I'm just working on my way back into things.

Spurs injured star to return

The San Antonio Spurs, owners of the second best record in the Western Conference behind the Oklahoma City Thunder got T.J. Ford, who missed 24 games with a torn left hamstring and Tiago Splitter back in the lineup on Wednesday night. Gary Neal also play significant minutes after he had been battling a hamstring injury he suffered during a game at Denver last week.
Expedition's Quest for Mayan Gold Stirs Outrage
Splitter made his return from a right calf injury that held him out of the last three games before the All-Star break and kept him out of Rising Stars Challenge during All-Star weekend in Orlando.

Manu Ginobili (strained oblique) was held out of Wednesday night's loss to the Bulls and could be expected back out on the court tomorrow against Charlotte or Sunday against Denver.

Splitter played 18 minutes but admitted he was a bit hesitant at first because of the calf injury. He scored eight points and made only 2 of 6 shots and had four rebounds.

"Once I started to play, I forgot about it and just played and didn't worry about my calf," Splitter told reporters.

It was his first game since Feb. 18 when he injured his calf against the Los Angeles Clippers.

"I feel bad about my game tonight. You know, I missed some shots I'm not used to missing but it's a game and I'm just happy I was back out on the court and didn't feel any more pain in my calf. That's for sure the best part of the game for me today."
Adry Torres, who has covered MLB, NFL, NBA and NCAA basketball games and related events, is a regular contributor to Fox News Latino. He can be reached at elpiloto137@gmail.com or follow him on Twitter: @adrytorresnyc.
Follow us on twitter.com/foxnewslatino
Like us at facebook.com/foxnewslatino