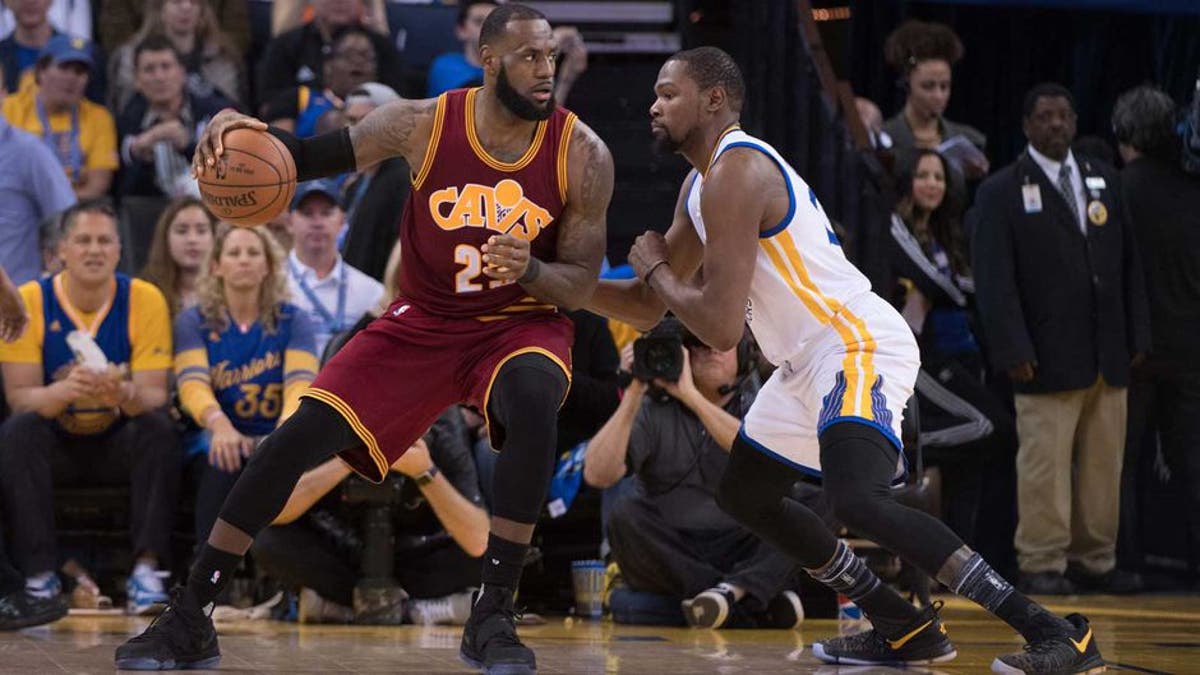 Kevin Durant admires LeBron James from afar, marveling at how Cleveland's main man finds ways to elevate his game at age 32 -- year after year, title after title.
Kobe Bryant was much the same.
Ten years into his NBA journey, the unassuming, scoring machine everyone calls "KD", strives to emulate those superstars. Soon, he will likely see James again in the Finals, this time in a matchup that has been talked about from the very moment Durant departed Oklahoma City to join Golden State last July.
The anticipation of this potential matchup has overshadowed other postseason series.
Durant understands that like LeBron and Kobe, it's time to take his game to another level. They each have something Durant wants.
"It's a mindset, when you don't realize how old you are or how many years you've played or mileage or the moment," Durant said. "You've just got to try to keep getting better. You have that mindset when you step on the court that you want to be the best player on the court. It may not happen every game. You may not be the best, you might not have the best game, but just having that mindset you never get satisfied with what you do.
"That's the mindset he (James) has taken on, that's the mindset Kobe did. There's a lot of other players that did it. I feel like I'm on the same path as far as -- I wouldn't say I'm going to have four MVPs or three championships, I'm not guaranteeing that but I want that. On the basketball court, I want to be consistent and great every night."
James and Durant have squared off 23 times during their NBA careers, and James has a decisive 18-5 edge, including 4-1 in the postseason and 1-0 in battles for the championship.
Now the basketball world is watching and waiting, even hoping for a Durant-James rematch. And this one could live up to the hype.
After swatting aside their opponents in the first and second rounds, the Cavaliers and Warriors stand an unblemished 16-0 combined as they await their conference finals opponents.
The 3-Match. Another must-see, best-of-seven series featuring arguably the league's best players in James and Durant -- both playing some of the best basketball of their careers -- and a marquee All-Star cast that includes two-time MVP Stephen Curry, Kyrie Irving, Draymond Green, Klay Thompson and Kevin Love.
It's a showdown made in hoops heaven, but Durant is downplaying a matchup with James as anything worthy of stealing the spotlight from the others.
"If we do end up making it to the Finals and Cleveland makes it to the Finals, it's never going to be me versus LeBron," Durant said. "It's going to be team versus team. It's not an individual sport. We're not playing 1-on-1 out there, as much as people want us to."
They have history and a rivalry -- albeit a rather one-sided one. James, then with the Miami Heat, won the first of his three NBA titles by beating Durant's Oklahoma City Thunder in 2012.
The pair is linked by talent, tenacity and drive. Olympic gold medal-winning teammates, they have become close friends and workout companions. They spent two summers pushing each other during training sessions in James' hometown of Akron, Ohio. Little did these two realize then that their stellar NBA careers would become even more intertwined when Durant bolted from OKC and faced the constant scrutiny that came with his decision.
In many ways, James actually helped show him how it's done.
He as much as anyone understood the tornado of criticism aimed at Durant for signing onto a "super team" to chase a championship. James left home in 2010 for Miami, where he won two titles and played in four straight Finals before leading Cleveland to its first major sports championship in 52 years . Before returning to Oklahoma City -- a place he still holds dear and supports -- earlier this season to face fans who are still stung and feel betrayed, Durant sought James out for advice on handling the hatred.
Now they're on a path toward Cavs-Dubs 3.0.
James has been practically unstoppable. And Durant, who missed 19 games late in the regular season with a left knee injury, has found the right balance of taking charge and sacrificing for him teammates with the Warriors.
Cavs coach Tyronn Lue is impressed with how Durant seamlessly blended in on Golden State, as Curry took a backseat.
"When Steph and Klay have a bad game -- which is not very often -- when they do, then you can give the ball to Durant and he can go get his own basket and his own shot," Lue said. "You saw that in this Utah series where Steph and Klay struggled one game, and they just put it to Durant in the midrange area, and he went and got it. So you have that third player who is definitely one of the top three players in this league that can go get his own shot at any time and that's what makes them more dangerous."
Mike Brown knows both well.
Golden State's assistant , now filling in for Warriors coach Steve Kerr, spent five seasons with James in Cleveland. He appreciates his athleticism, but is more impressed by James' all-consuming work ethic that has allowed him to evolve every year.
He sees those same qualities in Durant, who now understands that when the stage enlarges he has to expand that 7-foot-5 wingspan even more.
"That's what those guys do," Brown said. "When you have superstars like that and the competition gets tougher, they usually rise to the moment or the occasion."
-- --
Withers reported from Independence, Ohio; McCauley from Oakland, California.