NBA player wears 'Je Suis Charlie' shirt during warmups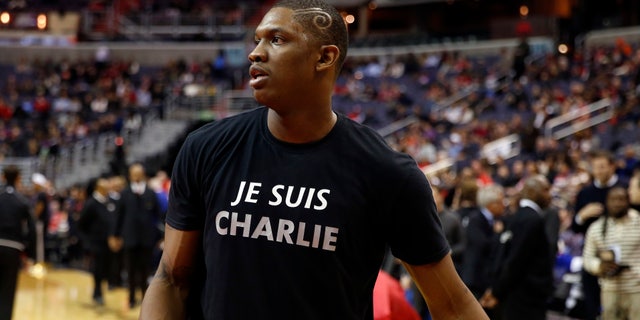 NEWYou can now listen to Fox News articles!
WASHINGTON – The "Je Suis Charlie" rally cry is making its way into the NBA.
Washington Wizards forward Kevin Seraphin wore a black T-shirt with the phrase written in white in all caps before Friday night's game against the Chicago Bulls.
"Je Suis Charlie" — "I Am Charlie" in English — has become a worldwide slogan to show solidarity with Charlie Hebdo, a Paris weekly newspaper where 12 people were killed Wednesday in a terrorist attack.
Seraphin was born in French Guiana and has represented France in international competitions. His family lives in Paris, and he texted his mother earlier Friday to make sure she's OK.
"Kind of insane what's going on right now 'cause we've never faced this type of thing," he said. "For sure, right now, it's a hard time for us."
Bulls forward Joakim Noah noticed the T-shirt and gave Seraphin an approving chest-tap at midcourt before the game. Noah is the son of French tennis champion Yannick Noah.
"I'm happy he did that," Joakim Noah said. "France is going through some tough times right now, and he honored the people."
French-born forward Nicolas Batum of the Portland Trail Blazers wore a similar shirt before Thursday's game against the Miami Heat.