NBA Finals: Warriors defeat Cavaliers in Game 5 for second title in three years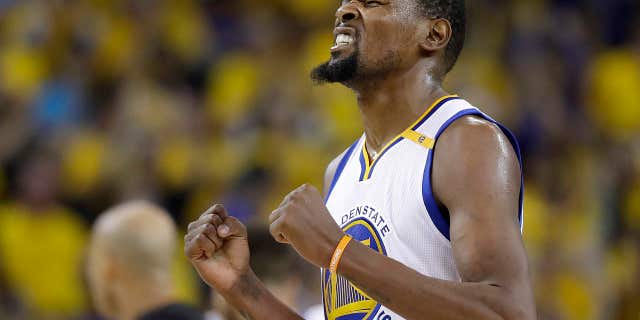 NEWYou can now listen to Fox News articles!
The Golden State Warriors defeated the Cleveland Cavaliers in Game 5 of the NBA Finals on Monday, 129-120, for its second championship in three seasons, avenging last season's historic collapse.
The Warriors were led by sensational performances from Kevin Durant, who scored 39 points, grabbed seven rebounds and recorded five assists, and Stephen Curry, who scored 34 points, recorded 10 assists and grabbed six rebounds.
"We learned from everything we've been through," Curry said during the trophy celebration. "Our perspective, being blessed to play on this stage three years in a row, it's for these fans, for our organization, for these families. To be back here, bring ol' Larry back home, I'm just excited to do something special. I'm ready to do it again."
It is Durant's first NBA championship win in his second-ever appearance in the Finals.
"It's just a great group of guys, great community, great arena, great fans," Durant said. "I'm just so happy to be a part of it. I can't wait to celebrate with my teammates in the locker room."
The Warriors did not win without a hard-fought effort from the LeBron James-led Cavaliers. James led all scorers with 41 points, grabbed 13 boards and recorded eight assists.
James was helped by Kyrie Irving's 26 points and J.R. Smith's 25 points.
The Warriors won in 2015 before the Cavs made their historic comeback last year. Then it was Golden State's time again, with Durant as the prized addition.
Durant shot 14 for 20 and Curry — the two-time reigning MVP who took a backseat as the new big star got acclimated — finished off a brilliant postseason. Not to mention a healthy one after his 2016 injuries.
On Monday, Golden State used a 27-4 second-quarter run to take charge — just after it appeared Durant should have been called for a third foul on a basket by James — and got to celebrate right at home in Oakland surrounded by a deafening home crowd waving yellow rally towels and holding up phones to shoot video and photos as the final minute of the clock ticked away.
The buzzer sounded and gold confetti began to fall.
The Warriors became the first Bay Area team to capture a championship at home since the A's finished the Los Angeles Dodgers in Game 5 of the 1974 World Series.
A year ago, these Warriors fell short after a record-setting season that included a 24-0 start and 73 victories at the end to break the 1995-96 Chicago Bulls' wins.
The Associated Press contributed to this report.