NBA Draft day trades that should, would, and could happen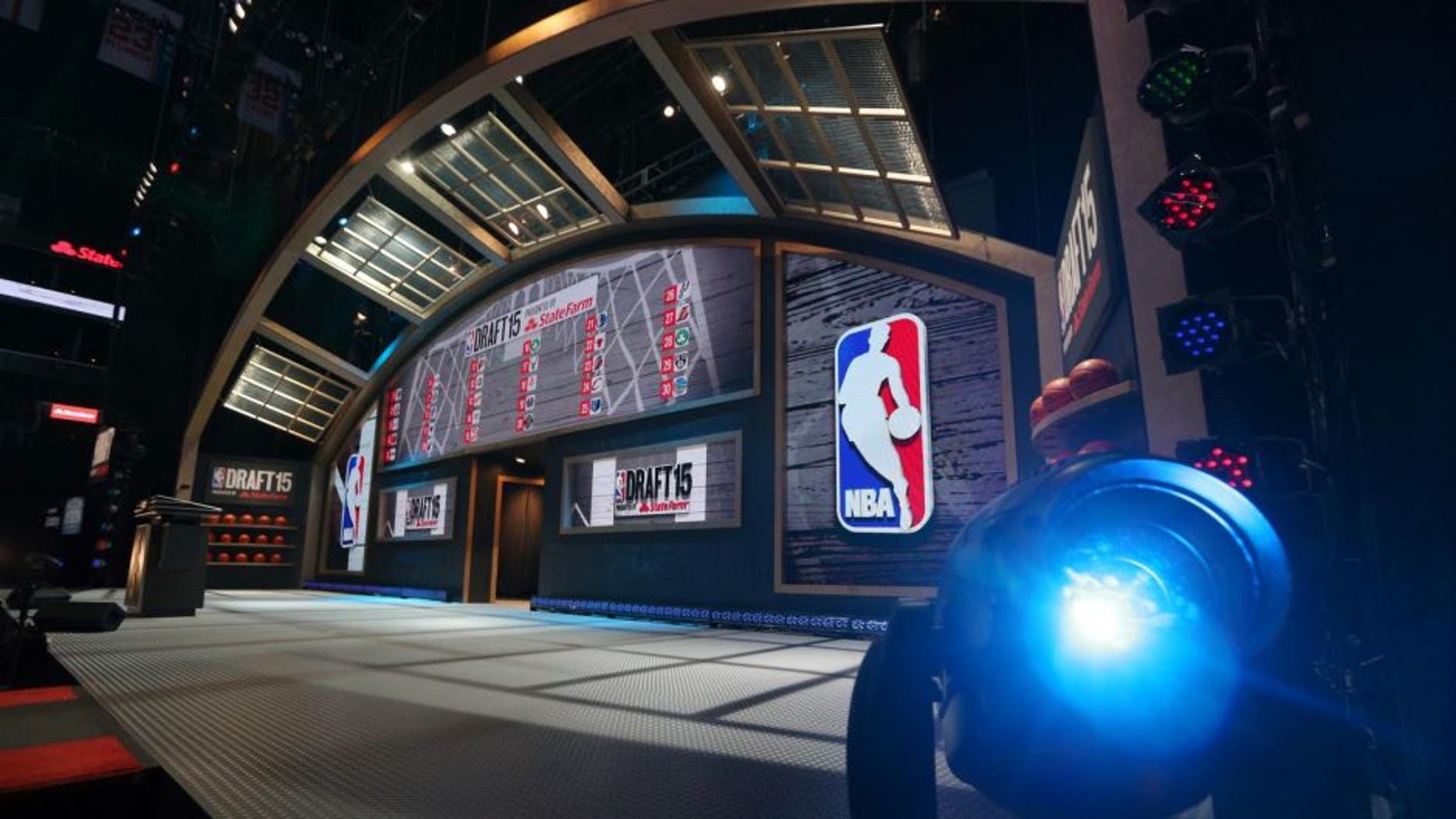 The 2016 NBA Draft is only hours away ... which means we're not only on the verge of inducting ~60 new faces to the most prestigious professional basketball league in the world, but, TRADES TRADES TRADES AND MORE TRADES.
Second to only the trade deadline in February, the NBA draft is without a doubt the most popular date on the calendar for quantity of transactions between teams -- and since the season is now over and there is nothing to do but speculate about the 2016-2017 campaign, it's time to fire up the ol' trade machine and see how your favorite team can (and should) assemble the next "Big 3".
Let's begin!
Trade #1: Teams involved:
1) Chicago Bulls
2) Minnesota Timberwolves
The deal:
Chicago sends Jimmy Butler (4 YR/$52.6MM)
to Minnesota for Nikola Pekovic (2 YR/$23.7MM), Zach LaVine (1 YR/$2.2MM), Shabazz Muhammad (1 YR/$3.0MM), and Minnesota's first round draft pick in this year's draft (5)
Thoughts:
This is not only realistic, it's been rumored all over the internet for the past couple of weeks in anticipation of tonight. This makes too much sense to happen --€" built around a zombie point guard and aging veterans whose contracts have expired, the Bulls are nowhere near championship contenders as currently constructed. The one thing the franchise does have going for it -- they have Jimmy Butler, a top-10 two-way player, under contract for the next four seasons. With Gasol and Noah likely gone this Summer, does Chicago blow the whole thing up this season and cash in Jimmy's stock at the peak of his career? Unless the trade involves Andrew Wiggins, then my answer would be 'no' if I'm the Bulls. There will always be demand for a player of the caliber of Butler. On the contrary, for the Wolves: is the ceiling truly limitless for the former #1 pick? If so, you don't trade a once-in-a-generation player, even for someone like the Bulls' all-star. Regardless, man ... does Tom Thibodeau have his work cut out for him in the Twin Cities...
Trade #2: Teams involved:
1) Los Angeles Clippers
2) Boston Celtics
The deal:
Los Angeles sends Blake Griffin (2 YR/$41.5MM)
to Boston for Avery Bradley (2 YR/$17MM), Jae Crowder (4 YR/$29MM), and a Boston first round draft pick in this year's draft (16)
Thoughts:
It was only a mere three years ago when Blake Griffin was jumping over cars in the dunk contest and re-defining the term "alley-oop" with unfathomable athleticism. That time has come and gone. There is a legitimate argument to be had that Blake has actually improved his all-around game since this time, but, like so many players before him --€" injuries have plagued the all-star's dynamic athleticism and subsequently: his value.
I'll make this loud & clear: Blake Griffin's trade value will never be as high as it is right now. While he sat out a big chunk of the 2015-2016 campaign, the Clippers proved that they can survive without him. With DeAndre clogging the paint, Blake's jumper not reliable enough to require opposing big men to challenge him outside the three-point line, and the Clippers' gaping hole at the 'swingman' position --€" this trade makes too much sense.
The Clippers receive two formidable players who immediately remedy this void, and in exchange: the Celtics' mediocre frontcourt receives a major upgrade from Amir Johnson/Jared Sullinger/Kelly Olynyk in the form of a fringe superstar who could re-ignite at any time. In addition, it should be noted that the Celtics have more shooting guards and draft picks than they can count, so, while these are certainly two of the bigger names on the current roster -- they can be replaced seamlessly.
Trade #3: Teams involved:
1) Sacramento Kings
2) Phoenix Suns
The deal:
Sacramento sends DeMarcus Cousins (2 YR/$32.4MM)
to Phoenix for
to Minnesota for Devin Booker (1 YR/$2.23MM), Archie Goodwin (1 YR/$2.1MM), Tyson Chandler (3 YR/$39MM), and Phoenix's first round draft pick in this year's draft (4)
Thoughts:
I know what your thoughts are: "AW HELL NAH YOU AINT TRADING BOOGIE FOR THAT GARBAGE". Trust me, I'm with you: DeMarcus Cousins, despite his emotional volatility, is the most-skilled center in the NBA. However, do not let Phoenix's disaster of a 2015-2016 campaign fool you -- the one benefit of Brandon Knight and Eric Bledsoe going down with serious injuries was rookie sensation Devin Booker (finished 4th in Rookie of the Year voting) and third-year player Archie Goodwin got valuable game experience and impressively improved over the course of the season. Combine these two with the likes of prospects Buddy Hield, Kris Dunn, and/or Drgan Bender and all-of-a-sudden the youth movement in Sacramento has legitimacy.
My question to Sacramento: what exactly is the goal here? Do you seriously think you're going to win an NBA championship in the next three years the way the roster is currently constructed? If no, then you cash in your most valuable asset while you still can.
As for the Suns, their fans want Devin Booker to remain the best-kept-secret in the NBA -- but, if the opportunity presents itself to build a "Big 3" of Brandon Knight, Eric Bledsoe, and DeMarcus Cousins ... I don't care if it costs you a Klay Thompson in-training, you do it.
Trade #4: Teams involved:
1) Memphis Grizzlies
2) Chicago Bulls
3) Orlando Magic
The deal:
Orlando Magic receives Zach Randolph (1 YR/$10.4MM) from Memphis and Taj Gibson (1 YR/$8.95MM) from Chicago
Chicago Bulls receive Elfrid Payton (1 YR/$6MM) from Orlando
Memphis Grizzlies receive Mario Hezonja (1 YR/$3.9MM) and CJ Watson (2 YR/$15MM) from Orlando
Thoughts:
This is a perfect marriage of franchises who are primed to "blow things up" and one who is "tired of waiting, let's win now". With Derrick Rose on his way to New York, it's all but certain the Bulls are going to let Pau Gasol & Joakim Noah walk in free agency, signaling a rebuilding phase in Chicago. The next veteran on the list to go: Taj Gibson, a formidable power forward who can help any team on defense and on the glass immediately. As compensation, they will receive Elfrid Payton, Orlando's crazy-haired experiment that hasn't failed -- but, definitely hasn't succeeded. The point guard position is vacant for the Bulls, and this is a beautiful swap as they begin their "youth movement".
In addition: the Memphis Grizzlies are in the same boat. Yes, there is potential for Conley, Gasol, and Randolph to reunite --€" but, even if they do: let's be honest, this core isn't winning anything without some serious supporting cast help. Time to cash in the one valuable veteran that is left on the roster: Zach Randolph. He goes to Orlando, which now has a seriously-intimidating front court of Vucevic, Gibson, Gordon, and Randolph -- and in compensation: they receive some point guard relief in CJ Watson + Mario Hezonja, the insanely-talented shooting guard prospect who can't find any play time the way the Magic's roster is currently constructed. Everyone Wins!
Trade #5: Teams involved:
1) Boston Celtics
2) Philadelphia 76ers
The deal:
Boston sends Avery Bradley (2 YR/$17MM), Marcus Smart (1 YR/$3.58)
to Philadelphia for
Nerlens Noel (1 YR/$4.38MM), Jerami Grant (1 YR/$980,000)
Thoughts:
The 76ers have way too many centers, the Celtics have way too many shooting guards. This trade will essentially deplete the Celtics 66.7% of their primary ball-handlers, but, holding the third overall pick in tonight's draft -- they can remedy this issue immediately by drafting someone like Buddy Hield or Kris Dunn. In exchange, they receive the rim-protecting big man they so desperately need in Nerlens Noel.
As for the 76ers, playing TJ McConnell and Nik Stauskas major minutes was a funny joke for one season, but, now that 'The Process' is over --€" it's finally time to cash in these assets they've been holding for what feels like an eternity. Noel leaves, but, two formidable NBA-ready guards join the club, can immediately start, and will be the spearhead of the 76ers' resurrection to basketball relevancy.