Navy's Reynolds rushing up the record books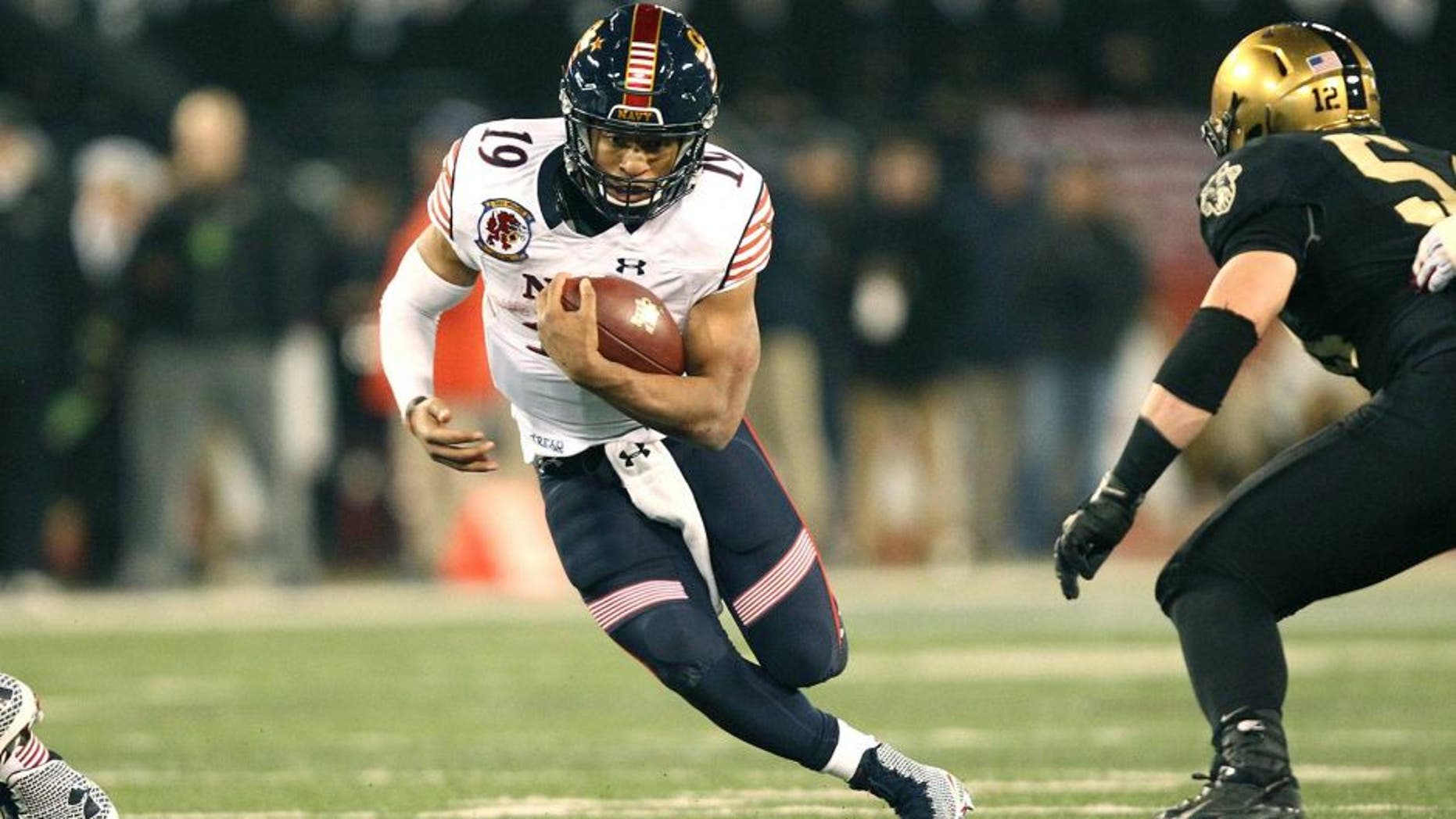 It's only fitting that the player nobody wanted will end up being the one history will not be able to forget.
When Keenan Reynolds graduated from Goodpasture Christian High School in Tennessee, the undersized, under-recruited quarterback had three college football options: Air Force, Navy and Wofford.
The 5-11, 205-pound Reynolds elected to go with Navy, where his knack for making the right decision out of three possible options would allow him to etch his name into the NCAA records books.
In three-plus years as a starting quarterback, Reynolds has mastered the Midshipmen's triple-option offense, scoring a school-record 73 rushing touchdowns, which is the most by a QB in NCAA history.
In fact, only one player, regardless of position, has run for more scores than Reynolds, who also stands fourth on the NCAA's career touchdown list and is likely to own both records in the future.
As of now, former Wisconsin star running back Montee Ball (2009-12) is the leader in both categories. The former Badgers bowling-ball-of-a-back is tops on the total touchdowns list with 83, while his 77 rushing TDs is the best of all-time.
Numbers that Reynolds knows he is rapidly rushing toward.
"It's an awesome opportunity to be mentioned among those great names at the top of that list," Reynolds told FOX Sports recently. "I'm excited and I'm grateful for it, but my main focus right now is winning games."
Something that Reynolds and the Midshipmen (3-0, 2-0 AAC) have been doing plenty of. After 134 years of playing college football as an independent, Navy joined the American Athletic Conference this season with the hopes that it will boost its brand, which will also be a byproduct of Reynolds' run to the top of the record books
"I think it will be a monumental accomplishment for Keenan and our football program," Navy head coach Ken Niumatalolo said. "There have been so many great players that have played this game, so many players that have played college football, and to have the opportunity to be the all-time leading scorer is no small task. It's a monumental feat."
Reynolds recently led Navy to its first conference win, rushing for 142 yards and an AAC-record five touchdowns on 24 attempts in a 45-21 romp over East Carolina.
The speedy leader of the Mids' offense has won 24 games during his career, most in school history, while his 3,491 career rushing yards ranks second on Navy's all-time list (Napoleon McCallum leads). Pretty good for a guy that wasn't a blip on any major program's radar.
"I wasn't heavily recruited," said Reynolds, who majors in political science. "I just had Air Force, Navy and Wofford as my top three. I had a couple of small offers other than that.
"When I went to visit Navy it just felt right. It felt like home. After talking to my parents about it, and really giving it some sincere thought, it felt like the right place to be."
While other schools focused on Reynolds' height, or lack thereof, all Niumatalolo saw was a guy who could make big plays.
"Coach Ashley Ingram, one of our coaches who recruited him, brought back his tape and I thought his tape was dynamic," Niumatalolo said. "He did everything. He ran with the ball, he threw it well. He did a lot of different things.
"… I think because of his height people bypassed on him, but we knew he was a good player from watching him on tape."
In order to run the triple-option effectively, a quarterback must have quick feet but a faster mind. Triple-option QBs have to decide whether to handoff, pitch or keep in the blink of an eye. It's an offense where any hesitation or indecision can invariably lead to another trifecta of options: turnovers, fumbles and injuries.
Reynolds may not have the height prototype quarterbacks have, but his football IQ is gigantic and it has allowed him to operate Navy's triple-option attack with military precision.
"Great quarterbacks aren't measured by physical tangibles," Niumatalolo said. "It's not their height, it's not there arm strength, it's not there 40 times or their vertical, it's their mind.
"That's what separates Keenan. He's a smart quarterback. He's always in the moment. He doesn't get caught up in things. He's very calm, level headed.
"I think his decision making, his thought process and command of the offense has definitely helped our program. … He's made me look a lot smarter."