Navy Beats Army for Ninth Straight Time, 31-17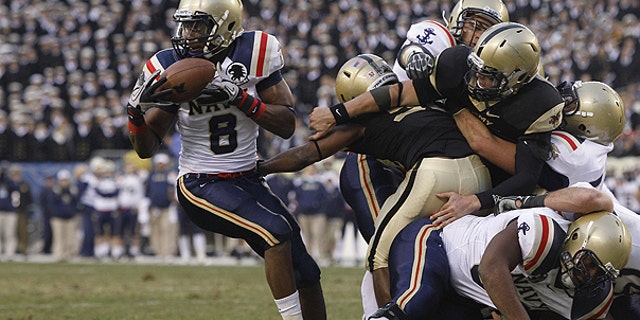 PHILADELPHIA -- Ricky Dobbs sat in a small room deep inside Lincoln Financial Field and recalled a team meeting from earlier this season. Navy had just lost to Air Force, the Commander-in-Chief's Trophy was slipping away, and the season was on the verge of doing the same.
"We had some very high expectations for ourselves and maybe they got the best of us," the senior quarterback said. "We had that meeting and just said, 'We have a lot of football to play and we need to start having fun."'
Nothing is more fun than beating Army.
Dobbs threw the longest touchdown pass in the 111-year history of the storied rivalry, Wyatt Middleton had the longest fumble return in Navy history, and the Midshipmen extended their winning streak against the Black Knights to nine straight with a 31-17 victory Saturday.
Dobbs passed for 186 yards and two touchdowns for Navy (9-3), one of 24 seniors to never lose to their rivals from West Point. The happy-go-lucky quarterback turned the ball over four times -- three fumbles and an interception in the end zone -- but also ran for a team-high 54 yards.
"Those turnovers drive you crazy," Navy coach Ken Niumatalolo said, "but that's Ricky."
Trent Steelman threw for 128 yards and two scores for Army (6-6), but it was his fumble late in the first half that put the Black Knights in a hole too deep to escape.
They already trailed 17-7 with first-and-goal at the Navy 3 when Steelman was stood up on a quarterback keeper. The ball squirted from his hands and right to Middleton, who turned around to see nobody in a black jersey between him and the goal line. The 98-yard return made it 24-7 at halftime, silencing the gray-clad Cadets standing in their customary corner of the stadium.
Middleton, a senior, was named the game's MVP.
"They had us reeling there," Niumatalolo said. "We preached all week about not giving them a short field, and we gave them exactly that. But our defense stepped up."
Army controlled the ball much of the second half, but could only muster Alex Carlton's 42-yard field goal before Steelman's late touchdown pass to Malcolm Brown provided the final margin.
"Our guys are in there, looking at each other like 'We can hang with this bunch. We can compete there,"' Army coach Rich Ellerson said. "But that's not the same as doing it, or not doing it for 60 minutes."
Both teams lost to Air Force this season, ending the Midshipmen's seven-year grip on the Commander-in-Chief's Trophy awarded to the top service academy. But another victory over Army -- the game that matters most on the schedule every year -- certainly helped to ease that sting.
Army is still headed to its first bowl game since 1996, the Armed Forces Bowl on Dec. 30 in Dallas against SMU. The Midshipmen play San Diego State in the Poinsettia Bowl on Dec. 23.
The latest edition of one of college sports' marquee matchups wasn't pretty, perhaps because of long layoffs for both teams. The Army-Navy game was moved back on the schedule to separate it from the conference title games, so they hadn't played a meaningful snap since Nov. 20.
It showed right away, when the two teams swapped turnovers in the first four offensive plays.
Joe Buckley finally struck for Navy with a 36-yard field goal. After the defense held, Dobbs found John Howell alone behind the coverage and hit him in the stride. The sophomore outran both Army safeties 77 yards for the touchdown, the longest passing score in series history.
Dobbs made it 17-0 early in the second quarter when he zipped a pass to Brandon Turner between two defenders from 32 yards out. It was the first touchdown of Turner's career and allowed Dobbs to match Alton Grizzard's single-season school record with 12 touchdown passes.
The Black Knights finally scored with 8:19 left in the half when Steelman hit Brown from 5 yards out, their first touchdown against Navy since the fourth quarter of the 2006 game.
That's 201 minutes, 43 seconds of game time for those keeping track.
Army was poised to get within a field goal at halftime when Steelman plunged for the goal line with 1:03 remaining. He lost control of the ball, though, and Army lost control of the game.
As the final seconds ticked off the clock in the fourth quarter, players on both sidelines came together at midfield to shake hands. Then the Midshipmen headed to celebrate with their classmates in the corner of the endzone, a scene that's become all too familiar for Army.
"Those guys are good," said senior linebacker Stephen Anderson, who will never know what it's like to beat Navy. "Those guys are going to be my future brothers-in-arms, so as much as I hate to say it, I've got nothing but respect for those guys."