Naturally, Rangers stand out in wild, wild West on Wednesday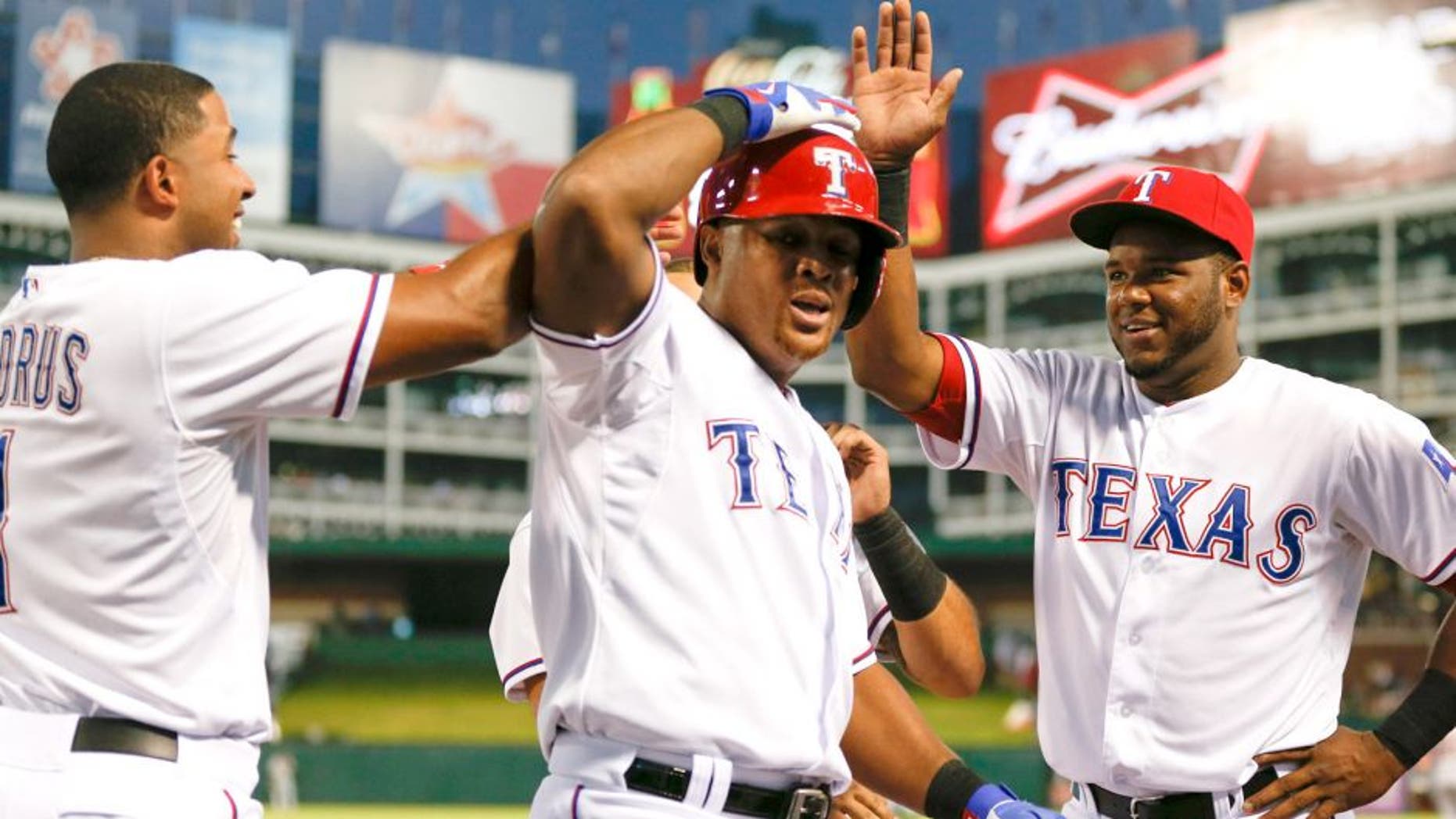 When Wednesday began in the AL West, the Rangers were in first, the Angels were on fire and in the playoffs, and the Astros were out of the playoff picture and struggling to just to keep up.
And all of them were hoping the Yankees would lose to the hated Red Sox.
Well, they got that last part out of the way first, as New York surrendered four runs in the 11th inning to fall to Boston 9-5.
Then mere minutes later, the Rangers enjoyed a very good night. A win at home against Detroit and a gut-wrenching loss by the Angels in Oakland left the Rangers with a three-game lead with the Astros in a tight one in Seattle.
Here's how it all went down:
* * * * * * * *
RANGERS 6, TIGERS 2
ARLINGTON, Texas -- Elvis Andrus and the AL West-leading Texas Rangers know they are getting close to another postseason berth.
"Yeah, we're feeling great right now, but can't stop playing the way we're doing right now because we're getting close," Andrus said. "We're pretty confident."
After a 6-2 victory over the Detroit Tigers on Wednesday night, the Rangers have to win only once in their final four games against the Los Angeles Angels to be guaranteed a playoff spot.
"I think you can't help but feel it. We also believe in the fact that these guys are in the now ... no opportunity wasted," first-year Texas manager Jeff Banister said. "They really don't get caught up with what's down the road, but I believe that it brings a sense of energy and a little added energy for us, and some added focus."
Adrian Beltre hit the first of three Texas home in the win over the Tigers.
Robinson Chirinos and Mike Napoli also went deep for the Rangers (86-72), who open that final regular-series at home against the Angels on Thursday night. Los Angeles lost 8-7 Wednesday against Oakland to fall three games back in the division.
Houston, with the same 83-75 record as the Angels, played at Seattle later Wednesday night.
The Rangers won the AL West title in 2010 and 2011 on way to their only World Series appearances. They lost the AL's first one-and-done wild-card game at home in 2012, then dropped a wild-card tiebreaker at home in 2013 before losing 95 games last season.
Yovani Gallardo (13-11) allowed nine hits over 5 1-3 innings, but gave up only two runs to win for the first time in his last four starts. The right-hander struck out five and walked one.
Detroit took a 2-0 lead in the first inning for the second night in a row, this time on a two-run double by Tyler Collins.
Texas got even in the bottom of the first on Beltre's 17th homer, a shot to left-center field. Beltre has an AL-best 29 RBIs in September, and 74 for the season.
Chirinos led off the second with his 10th homer, putting Texas ahead to stay. Beltre had a two-out double off the left-center wall and scored on Prince Fielder's bloop single before Napoli hit a blast to the wall behind the lower deck of seats in left field.
Beltre is hitting .416 (32 of 77) in his last 19 games, raising his season average from .261 to .283.
"The captain, the guy that sits right in the middle of our club, beacon that all these guys look towards," Banister said.
Tigers left-hander Matt Boyd (1-6) allowed all three Texas homers while giving up seven hits in 2 2-3 innings. He struck out two and walked one.
"My changeup usually doesn't get hit that hard. It wasn't the only thing that was hit," Boyd said. "I wasn't really staying with my delivery. Didn't have the rhythm like I've the past three outings."
SHIN-SOO'S STREAK
Shin-Soo Choo, who singled and scored before Beltre's homer in the first, has an eight-game hitting streak and is batting .444 (24 of 54) over his past 14 games. He has reached base in 49 of his last 51 games.
GALLARDO'S MARKS
Gallardo matched his career high by making his 33rd start. He became the sixth pitcher to make at least 30 starts and throw 180 innings the past seven seasons. One of the others is teammate Cole Hamels.
TRAINER'S ROOM
Tigers: Victor Martinez missed his second consecutive game with a sore left quad. ... 3B Nick Castellanos was back in the lineup after coming out in the first inning Tuesday because of a bruised right finger and sore left wrist.
Rangers: C Robinson Chirinos made only his second start since being activated from the disabled list Sept. 7 after missing more than a month with a left shoulder strain.
UP NEXT
Tigers: After its final off day of the season, Detroit opens a three-game series Friday night at the Chicago White Sox.
Rangers: LHP Derek Holland, 0-2 with an 8.59 ERA his last four starts, pitches the series opener against the Angels.
* * * * * * * *
ATHLETICS 7, ANGELS 6
ANAHEIM, Calif. -- Collin Cowgill's soft groundout to third wasn't a terribly appropriate way to end a seven-game winning streak and a rollicking homestand that propelled the Los Angeles Angels back into playoff position.
The Angels still packed up and headed for four games in Texas knowing they control their postseason destiny, even after committing four errors and giving up seven unearned runs in an 8-7 loss to the Oakland Athletics on Wednesday night.
One day after the Angels (83-75) completed a two-month chase by passing Houston for the second AL wild-card spot, their mistake-filled loss in their regular-season home finale further complicated the playoff race.
"We came back, and we battled," said Mike Trout, who hit his 41st homer. "We didn't win the fight, but we've got to come back (in Texas) and we've got to win every game."
Trout was on third base when Sean Doolittle retired pinch-hitter Cowgill on a meek groundout, completing a wild five-out save. The Angels dropped back into a tie with the Houston Astros, who played a late game at Seattle.
Los Angeles hit five homers, including Kole Calhoun's leadoff shot in the ninth. Johnny Giavotella hit a go-ahead homer in the sixth, but the Angels couldn't overcome those four errors in a baffling five-inning span for the team that had allowed the fewest unearned runs in the AL.
"It's inexcusable," said Giavotella, who made a key error at second base leading to Eric Sogard's three-run double in the fourth. "We're a better team than that. To win a championship, you can't have those errors. We had a lackluster day, but we've got to put it behind us."
Trout went 3 for 3, and he drew his second walk in the ninth after Calhoun's 25th homer.
Doolittle retired Albert Pujols on a popup and C.J. Cron on a 350-foot line drive before David Freese singled. But Cowgill, getting just his fourth at-bat since Sept. 5, tapped the next pitch to third.
The Angels' short-handed bullpen gave up five runs in two innings after the departure of Garrett Richards, who yielded four walks and no earned runs during six innings of two-hit ball. Mike Morin (3-2) combined with Trevor Gott on a disastrous seventh capped by Stephen Vogt's tiebreaking, two-run single during Oakland's four-run rally.
"This was a game we should have won, and I feel responsible," Richards said. "If I execute one pitch (to Sogard) ... it's a zero, there's three runs off the board, and we're partying tonight."
Freese and Carlos Perez also homered for the Angels.
Ryan Dull (1-1) got five outs for his first major league win for the A's, who won for the second time in 11 games.
Barry Zito pitched four innings in perhaps the final start of his major league career, leaving with a lead despite yielding four hits and four walks. The 37-year-old Zito, a 15-year veteran and former Cy Young Award winner, spent most of this season in the minors.
"There's nice bookends," said Zito, whose major league debut was a win over the Angels in Oakland. "I'm from Southern California, so it was great to come back down here. I had a lot of friends in the stands -- 30 people came tonight -- and a lot of support. ... I just want to get home and consider everything, but I feel complete with everything."
Giavotella drilled a two-out pitch from Edward Mujica into the bullpen for his first homer since June 18, but the A's rallied in the seventh after an error by Giavotella's defensive replacement, Taylor Featherston.
Josh Reddick drew a bases-loaded walk to tie it, and Vogt delivered a two-out, two-strike, two-RBI single. Oakland added another run in the eighth, which featured C.J. Cron's error and Trout's horrible misplay on a hit to center that was ruled a triple. Trout lost the ball in the lights.
TROUT STANDING
Trout connected against Zito, matching Troy Glaus' 41 homers in 2001 for the second-highest season total in Angels history. Trout also stole his first base since July 25 in the fifth inning. He has just two stolen bases since the All-Star break -- two fewer than Pujols.
ATTENDANCE
The Angels drew 3,012,747 fans at the Big A this season, their lowest total since 2002. It's still their 13th straight year with 3 million fans.
TRAINER'S ROOM
Athletics: Carson Blair had arthroscopic surgery on his left knee. The catcher should be ready for spring training.
Angels: Joe Smith pitched for the first time since Sept. 17, returning after spraining his ankle on a hotel staircase.
UP NEXT
Athletics: After a day off, Aaron Brooks (2-4, 7.26 ERA) opens the season-ending series in Seattle.
Angels: Rookie Andrew Heaney (6-3, 3.29 ERA) opens the crucial four-game series at Texas.