Nats activating Strasburg, keeping rookie in rotation over vet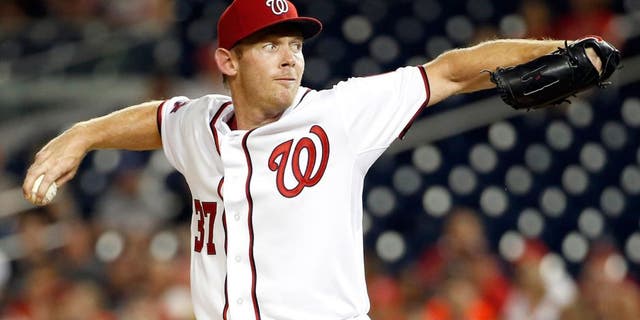 With their supposed "best rotation in baseball" showing signs of mortality and their lead in the NL East now a 1.5-game deficit, the Washington Nationals are shaking up their pitching staff -- and hoping their one-time ace is finally healthy for the long haul.
After Thursday night's 8-3 win over the Arizona Diamondbacks -- just the Nats' fourth in their last 11 games -- Washington manager Matt Williams told reporters in the nation's capital that Stephen Strasburg will be activated from his second stint on the disabled list this season in time to start Saturday's game against the Colorado Rockies.
The timing was no coincidence, as it came just after rookie right-hander Joe Ross turned in another solid outing, meaning struggling veteran Doug Fister will be sent to the bullpen to make room for Strasburg.
"It's a difficult task when you've been a starter for so long, but (Doug's) willing to do whatever he can to help us win," Williams told reporters after informing Ross he was staying in the rotation.
"I'm going to take the role and try to help the team," the 22-year-old Ross said after allowing a run and five hits while striking out seven in six innings. "I wanted to go out there and do my best and hopefully make them make a (tough) decision."
"He threw all his pitches well for strikes when he needed to, worked quickly, and continues to pitch well," Williams said of Ross, who was first recalled from Double-A Harrisburg on June 6. "The changeup is key for him and the breaking ball is key for him. He hit the outside corner, didn't give `em much to pull. He was in command."
Strasburg has been out since leaving his July 4 start against San Francisco after only 3 2/3 innings because of a strained oblique. He also missed nearly four weeks in late May and most of June with neck tightness.
In his last rehab start, for Triple-A Syracuse on Monday, the 27-year-old righty struck out 11 and did not walk a batter in 5 2/3 innings.
"I feel good," Strasburg told the media after the start. "Stuff's there, so it's just trying to keep doing the same things and keep working at all the stuff I've been doing. I'm going in the right direction."
Strasburg is 5-5 with a 5.16 ERA in 13 starts this season for Washington.
Washington entered the season with a rotation of Strasburg, Fister, Jordan Zimmermann, Gio Gonzalez and free-agent signing Max Scherzer.
Scherzer has been among baseball's best pitchers this season, but Ross is the only other Nationals pitcher with at least seven starts who has an ERA better than 3.54. As their starting pitching has struggled, the young rotation of the Mets has caught fire.
Not surprisingly, the Mets' climb up the standings has followed. The Nats in first place by 4.5 games in the NL East the day Strasburg was injured, and entered the All-Star break with a two-game lead. It was three games as late as last Thursday, but that was followed by a three-game sweep in New York last weekend.
-- The Associated Press contributed to this story