Nationals' Strasburg hopeful of avoiding DL, making next start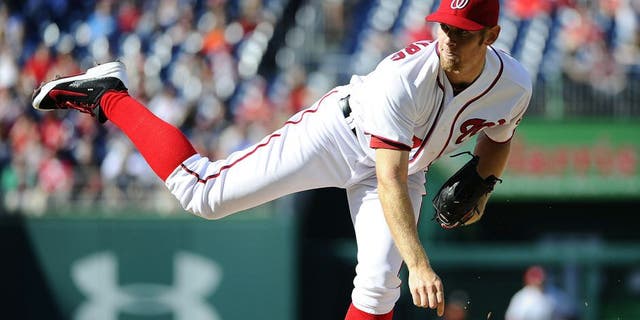 NEWYou can now listen to Fox News articles!
Entering the final five weeks of the season and facing a hefty deficit in the National League East, the Washington Nationals have to hope right-hander Stephen Strasburg can avoid a third trip to the disabled list.
Strasburg was forced to exit Sunday's start against the Miami Marlins after four innings due to discomfort in his upper back - a malady similar to the one that sidelined him for 3 1/2 weeks earlier this season.
Strasburg put on an optimistic front Sunday, noting how treatment helped alleviate the "knot" during his first stint on the DL and said he hopes to make his next scheduled start against the Atlanta Braves on Friday.
"Last time it kind of crept up. It was literally, I got the treatment and then in one to two days it felt normal," Strasburg said. "I think it's just something that I'm going to have to grind through and get through the year and then figure out exactly what it is in the offseason," he said.
With the Nationals sitting 5 1/2 games behind the first-place New York Mets in the division, the loss of Strasburg could be a crushing blow. He was superb since coming off the DL earlier this month, winning three of his first four starts while allowing a total of five earned runs.
(h/t CSNMid-Atlantic.com)