Nationals bump Scherzer back to line up rotation versus Mets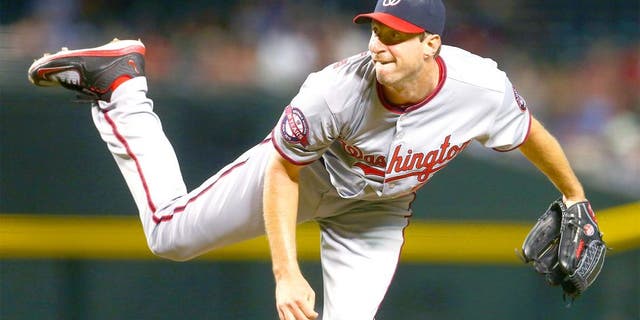 The Washington Nationals are adjusting their pitching rotation with their eyes aimed squarely at the New York Mets.
The Nationals announced Tuesday that ace Max Scherzer will skip his scheduled start on Wednesday and be moved back to Saturday, allowing Washington to line up its top three starters to face the National League East-leading Mets twice in the final month.
Right-handers Jordan Zimmermann, Scherzer and Stephen Strasburg are set up to face New York in a three-game home series from Sept. 7-9. The same trio is also on course to pitch the final three games of the season against the Mets at Citi Field.
Scherzer, who has lost three consecutive starts, missed the past two series against New York, including a three-game sweep from July 31-Aug. 2 that pulled the Mets into a first-place tie with Washington.
Injuries have also caused Strasburg to miss the past two series against New York, which entered play Tuesday with a 5 1/2-game lead over the Nationals.
(h/t Washington Post)