Nationals' Bryce Harper: 'I don't think I'm a leader'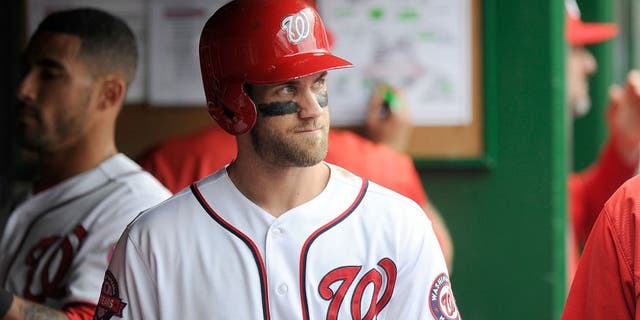 At 23 years old, Bryce Harper might be the most talented player on the Washington Nationals, but he doesn't believe that qualifies him as a leader by default.
"I don't think I'm a leader," Harper said Monday, via the Washington Post. "I think I'm more just a guy playing the game. I think [Jayson Werth] and [Ryan Zimmerman] and all those guys are the leaders. I'm still at that stage of where I'm still looking at J-Dub, I'm still looking at Zim to do everything they can to make the best for this team. Then play as hard as I can out there and lead by example."

While he has asserted himself as a star talent during his fledgling major-league career, and won the NL MVP award last year, Harper has only been in MLB for four years, which accounts for nearly one-fifth of his mere 23 years on Earth.
"He has leadership potential, but he's not a leader yet," new Nationals manager Dusty Baker said. "How many people are going to follow the youngest kid in the room? And just because you're the most talented doesn't mean that you're the leader. I don't think it's really fair to put that even on him."
In his MVP season last year, Harper exploded for 42 home runs, 99 RBI, and an impressive .330/.460/.649 split.
While projections suggest that Harper will only improve as he continues to mature as a player, Baker doesn't plan to thrust any expectations upon him.