National anthem singer kneels during performance at Miami Heat game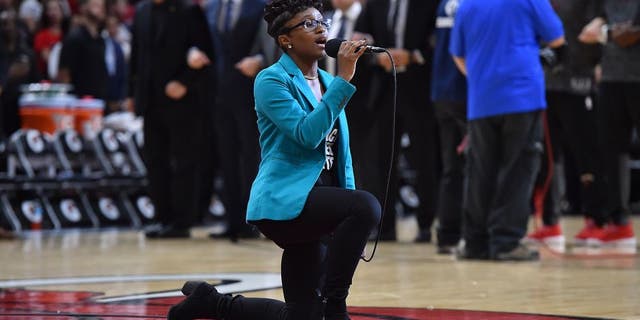 NEWYou can now listen to Fox News articles!
National anthem singer Denasia Lawrence kneeled during her performance before the Miami Heat's game Friday night, while wearing a "Black Lives Matter" t-shirt under her jacket.
The Heat released a statement saying "We were unaware of it ahead of time."
It's the second time in as many weeks that a singer has kneeled while performing the anthem before an NBA exhibition game. Leah Tysse took a knee at the end of her performance before a Sacramento Kings game, then explained her actions on social media.
"I love and honor my country as deeply as anyone yet it is my responsibility as an American to speak up against injustice as it affects my fellow Americans," Tysse wrote on Facebook. "I have sung the anthem before but this time taking a knee felt like the most patriotic thing I could do. I cannot idly stand by as black people are unlawfully profiled, harassed and killed by our law enforcement over and over and without a drop of accountability."
The Heat locked arms during the anthem, as did the Kings earlier this month. On Friday, NBA commissioner Adam Silver said he hoped players continued to stand for the anthem, which by rule players and coaches are supposed to do.
"I think that is the appropriate thing to do," he said.
The Associated Press contributed to this report.