National anthem protests: Florida man takes 'Boycott the Jags and the NFL' message to sky
A former Jacksonville Jaguars fan decided to take his grievances with national anthem protests to the sky Sunday, hoping the players on the field would see his message 1,000 feet above.
Terry Smiley said he was disgusted by Jaguars players who took a knee during the national anthem in London last month, and he decided he needed to make his voice heard.
So Smiley hired a pilot to fly his banner, which read "BE AMERICAN. BOYCOTT THE JAGS AND THE NFL," over EverBank Field on Sunday before the Jaguars faced off against the Los Angeles Rams.
"I have the right to protest and I'm going to protest it with bumper stickers, airplanes – whatever I got to do. I will continue to protest," Smiley told WFOX-WJAX-TV.
As part of his campaign against the NFL, Smiley is giving away bumper stickers in hopes other supporters will join him.
"Do you believe in your country? Do you believe in 'The Star-Spangle Banner'? If you don't stand up for it now, you won't have it in the future," Smiley told the television station.
While Smiley may feel the players' actions are disrespectful, other Jaguars fans said the players are kneeling to garner awareness for a greater cause.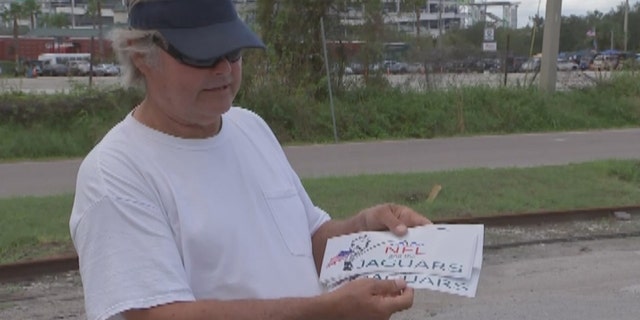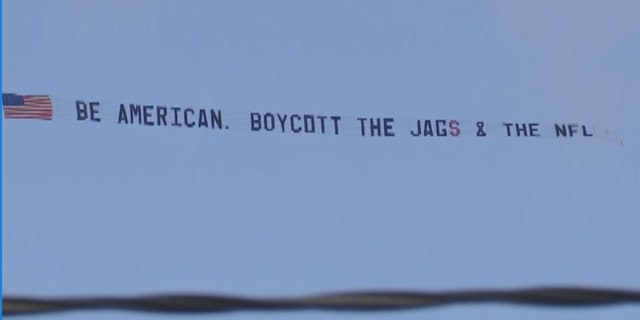 "They are taking it in a peaceful manner," Jaguars fan Jaumari Day told WFOX-WJAX-TV. "They are trying to use their words and use their actions instead of taking it to violence."
Another fan, Jay Crossman, said people need to realize the "true message" of the protests.
"They have publicly stated that they care about veterans and the flag and that's not what they're kneeling against," Crossman said.