Nate Diaz takes a shot at Conor McGregor after his win at UFC 205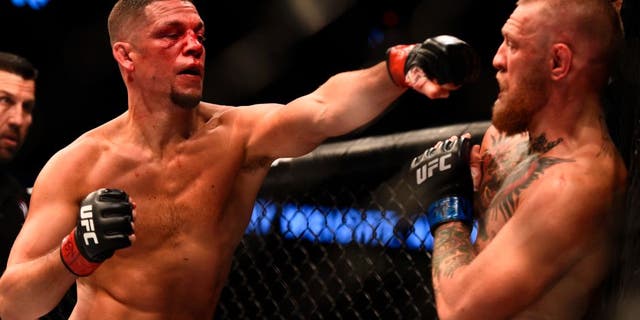 As Conor McGregor was celebrating his second UFC title after knocking out Eddie Alvarez this past Saturday night in New York, Nate Diaz was watching it all unfold from a luxury box high atop Madison Square Garden.
McGregor was dominant in his performance although it didn't really surprise Diaz after he spent nearly seven rounds with the new champion in two fights earlier this year. In reality, Diaz says McGregor was gifted this title fight against an easier challenger, but doesn't begrudge him for making the most of the opportunity.
More than anything, Diaz was mostly perturbed that the UFC didn't offer him any tickets to the fight, but instead he had to depend on some friends who offered him a seat in a box upstairs. Perhaps it was fear that Diaz would cause a scene on McGregor's special night, but the Stockton, Calif. native promises that was the furthest thing from his mind.
Diaz says he had no intentions of getting into an altercation with McGregor, but as soon as the Irishman was victorious, he couldn't help but notice all the eyes that shifted in his direction.
"It's a little bit unofficial, it's handed over. Good timing for him and he did everything right and they handed it right to him. It was funny how I got left out the picture though. He went through the fight like I expected he would, especially against that guy. I thought the fight would go exactly how it went. I figured that. Then as soon as the fight's over, I see like 100 people just turned around and staring at me like what do you want me to do?" Diaz said when speaking to ESPN.
"The UFC, they didn't even want to give me tickets to this fight. I think they wanted to just put this picture of him with the belts and it's the greatest thing that ever happened. They want to kind of like keep me out of the mix and hide me out from the whole thing. It might have been in his contract, 'don't let Nate Diaz in here'. I was up in the stands in the seat in the club box. After the fight, everybody's turning and looking at me. It's not my call. These guys are hiding me out up here. I think they gave Nick Jonas my seat."
All jokes aside, Diaz couldn't escape the questions about a third fight with McGregor all week long in New York.
Talk about a trilogy started almost immediately after the last fight when McGregor earned a majority decision over Diaz at UFC 202 in August. The win served as revenge for McGregor, who was submitted by Diaz via rear naked choke in under two rounds when they first met at UFC 196 in March.
There still seems to be a ton of interest in a third fight, but Diaz doesn't believe that's something McGregor truly wants, especially if he wants to build on this legacy where he's a two division champion in the UFC.
"The UFC knows that's a bad idea for him, too," Diaz said about a third fight with McGregor. "Congratulations to Conor, he did a great job, got the two belts.
"Me and him know what happened the last couple of fights. That greatest of all time stuff, that just needs to come to an end cause I don't remember any of the greatest of all time getting worked over like the last two fights. So not to sit here and bash, but that's how I feel about the whole situation."
As far as his own interest in a third fight, Diaz says that's about the only matchup that's going to get him motivated enough to return to the UFC at this point.
Diaz made a ton of money from his last two fights with McGregor so he's not strapped for cash and the only way the UFC is going to get him back into the Octagon is with an enticing offer that intrigues him as a martial artist as well as a businessman.
A trilogy bout with McGregor certainly fits the bill and Diaz is on board if the UFC wants to make it happen.
"I know what happened in a fight with me and him the last time," Diaz said. "He knows what happened and people know what happened.
"People are asking me 'when are you going to fight No. 3?' and 'do you want No. 3?' and of course if I do anything, that's what I wanted, the third fight. I'm not begging for no fight. It's all good with me. I don't need to fight."