Nate Diaz reveals his game plan for fighting Conor McGregor at UFC 196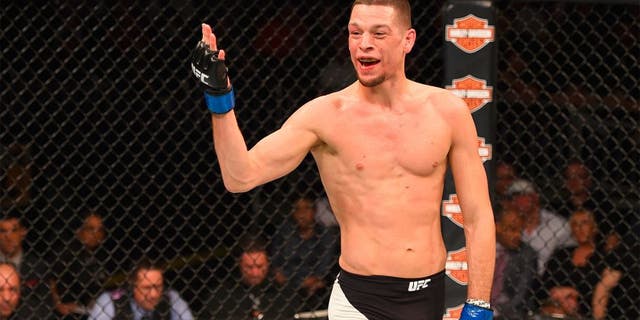 A local Stockton TV crew caught up with Stockton's own Nate Diaz as he readied to leave for Las Vegas, UFC 196, and Conor McGregor to ask the Brazilian jiu-jitsu back belt his gameplan for Saturday's main event. True to form, Diaz was blunt, and confident.
"The gameplan is to go in there, pfff pff, hit him with some good [expletive], don't get hit, and come home with a pocket full of cash," he said, with the likes of his brother Nick Diaz and BJJ world champion Kron Gracie milling around behind him, in frame (above).
"I've got my team with me, I got all the boys," Diaz said. "Ready to try and get the job done."
Diaz has been left with little time to prepare for McGregor, after accepting a last-minute replacement slot last week when lightweight champion Rafael dos Anjos pulled out of the McGregor bout with a broken foot. The former title-challenger admitted that his life has been a whirlwind since then, but he's still focused on the task ahead.
"It's been crazy," Diza said. "Wake up every day to 40 messages. I'm like, 'I've got to train, I ain't got time for all this. I've got a three-day fight camp ... Just going to go out there and do the thing, deal with what I've got to deal with, do what I've got to do, come home, get this [expletive] done.
"I train year-round to fight people, too. You should always be ready to rock."
Diaz also expanded on his claims from last week that, contrary to what had been rumored and what McGregor had said himself, he had originally accepted the short-notice fight at 155 pounds. Diaz says that, though he initially accepted the fight at 155 pounds and was willing to cut-weight on short notice, the UFC didn't originally want to pay him what he was asking to do it.
Only after they told him that they were no longer interested in his services at UFC 196 at his desired rate of pay did Diaz go ahead and fill his belly, warning them that if they changed their minds and called him later, the fight would have to be at a higher weight.
"The UFC or whatever, they all played their games and didn't want to make the fight happen for the money that was going on, so, they were like, 'we're not going to call you back,' Diaz said. 'We're not going to call you back,' because of what I was asking for. And I was like, 'alright, don't call back, then.' I wasn't begging for it.
"This fight needed to happen, regardless ... I'm not worried about it. I told them, 'If you call back tomorrow, things are going to be different, because I'm going to dinner.' I wasn't going to kill myself making weight. And, I could have made the weight but they wanted to play around, so I said, fine, we're fighting at this weight."
Diaz admits that while he himself has a big name in the sport of MMA, McGregor's is one of the very biggest. The Irishman is a champion, world-famous, and well-paid.
After fighting in the UFC for about a decade, however, Diaz let it be known that he's coming for what McGregor has on Saturday.
"We're going to take that name," he promised. "We're taking all what he's got. We're taking it with us. That's the plan."