Nate Diaz: I was trying to fight Georges St-Pierre before UFC offered me Conor McGregor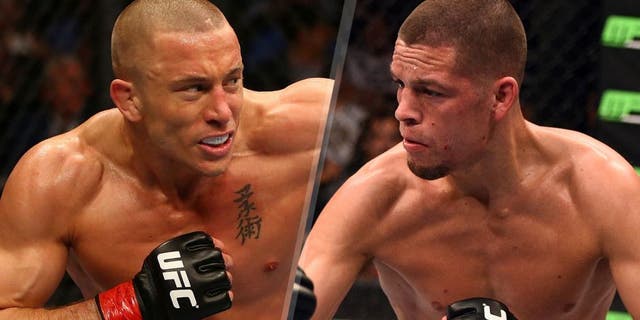 We already know that Nate Diaz didn't hesitate to take the Conor McGregor fight on short notice at this Saturday's UFC 196. The Stockton fighter recently revealed, however, that he was looking for a different fight before UFC president Dana White rung him to offer him the Irishman.
"I had just told Dana White, 'I'm going to 170,'" Diaz told BJPenn.com
"Because you know, Pettis, Alvarez and all those guys, all those scary-ass guys don't want to fight me. So, what the hell am I going to do, sit around the division and wait for a fight? So, it's all good, I'm going to go up to 170, then, start eating. I texted that to Dana. We were talking the day before they called me [to offer the McGregor fight]."
Diaz didn't just want to move back up to welterweight, he also wanted to get revenge for his brother Nick and take on the retired, former long-time 170 pounds kingpin Georges St-Pierre.
"I said, 'I'm trying to get the GSP fight,' because I heard he's coming back. He said, 'Oh, I think he wants to fight Lawler,'" Diaz recounted.
So, only after Diaz didn't get his wish to fight St-Pierre did the UFC ask him to fill in for Rafael dos Anjos on March 5. According to Diaz, he was in from the beginning.
"And then he called me the next day [saying] 'I told you to stay in shape, I told you to stay in shape and keep your weight down because something might come up.' I was like, 'What's up?' He told me that McGregor wanted to fight so I said, 'Yeah, let's do it.' He said, 'You just told me you were 200 pounds,'" Diaz chuckled.
"And, I said, 'I lied.'
"'So, let's get this 155 thing going and get it cracking.' He was like, 'Alright, don't say [expletive], we're going to make it happen.' I was like, 'alright.'"
Diaz continued to maintain that UFC 196 is far from just the Conor McGregor show. As far as he's concerned, he's the featherweight champ's equal when it comes not just to fighting, but pre-fight marketing.
"I didn't call like all them other fighters and beg for a fight. McGregor was asking for me, they were asking for me. There's no other way," he insisted.
"There's no McGregor show. It's the fight that needed to happen."