Nate Diaz 'hurt' after Jerry Rice betrayed him for Conor McGregor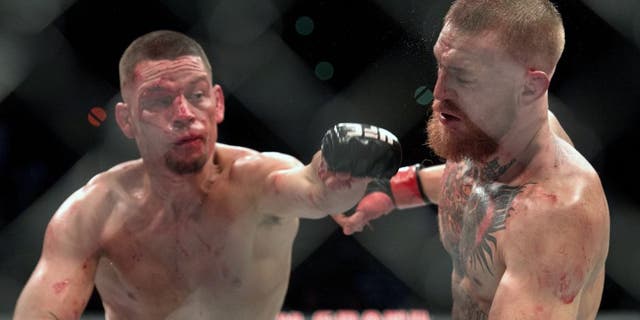 Nate Diaz might be shopping for a new sports idol after Jerry Rice opted to root for Conor McGregor at UFC 196.
It all stems from a Super Bowl party that went down in early February where Diaz stood up for his boyhood hero when somebody wanted him to take a photo with former Dallas Cowboys wide receiver Michael Irvin.
"You know who I saw, I saw Michael Irvin there. I was like 'that's Michael Irvin'. You know how I know who Michael Irvin is? Because my dad was a Cowboys fan. I always grew up liking the 49ers and I was a fan of Jerry Rice," Diaz explained when speaking to FOX Sports recently. "Everybody was like 'there's Michael Irvin right there' and I was like 'that's cool, that is Michael Irvin'. That was probably the biggest name guy I seen there, that I recognized.
"I was like (expletive) the Cowboys when I was younger. They're like 'let's go get a picture with him' and I was just talking (expletive) with my boy, I was like 'no, I'm cool'. I was like maybe if it was Jerry Rice."
Diaz proudly represented his favorite hometown team and player, but then like a knife in his back, after he fought and defeated McGregor at UFC 196 he found out that Rice was rooting for the Irishman.
"Jerry Rice was my guy but then what happened, I was watching after I did my last fight the other day with Conor and I was on Twitter and I seen the UFC reposted Jerry Rice and he was like 'let's go "Notorious"' or something and I was like 'what the (expletive) how could you?'," Diaz said.
"I just had your back at the Super Bowl party and I was bent out of shape."
Diaz admits he's not the biggest sports fan in the world outside of fighting, but seeing Rice root for McGregor was just painful.
"I'm loyal to my soil and the Niners from San Francisco so I had to stick with the team and then when he went for the Irish guy I was like 'you (expletive)'," Diaz said with a laugh. "I was hurt."