Nashville Predators finish off Ducks in Game 6, advance to first Stanley Cup Final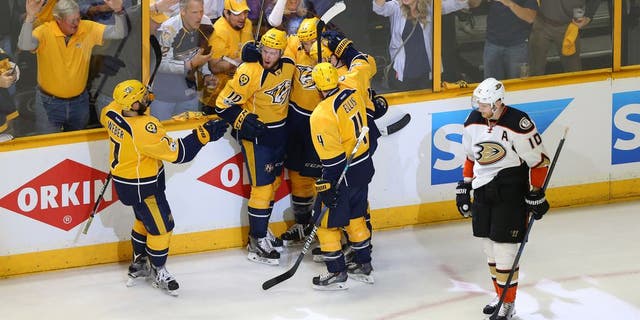 The Nashville Predators are heading to their first Stanley Cup Final in franchise history.
The Preds eliminated the Anaheim Ducks with a 6-3 victory in Game 6 on Monday in Nashville, officially punching their ticket to compete in the final round of the playoffs.
Colton Sissons, who hasan increased workload thanks to Ryan Johansen's season-ending leg injury, was the standout offensive performerfor the Predators in the series finale. Sissons had two goals in 15 games this postseason entering Game 6. He added three to that total with a hat trick.
The Predators were outshot 41-18 but Nashville goaltender Pekka Rinne was great, making 38 saves. On the other end of the ice, Jonathan Bernier had a rough go of things in net for Anaheim. It was Bernier's first career playoff start -- he replaced an injured John Gibson -- and he stopped just 12 of 16 between the pipes.
The Ducks put up a valiant effort and foughtto stay with the Predators for much of the night. They tied the game at 3-3 about halfway throughthe third period and it was looking like the contest might be headed for a white-knuckle finish.
But it was Sissons who reclaimedalead for the Predators withsix minutes left. It sent Nashville's crowd into a frenzy and it felt like a dagger in the heart of Anaheim. Ultimately, it was.
This time, Nashvilledidn't give the leadup. Instead, the Predators added two empty-netters to seal the victory.
Now, the Preds will await the winner of the Penguins-Senatorsseries in the East.Pittsburgh currently holds a 3-2 series lead with a chance to clinch Tuesday in Ottawa.