NASCAR's 'Cuban Missile,' Aric Almirola Sets His Sights On Daytona 500 Victory Lane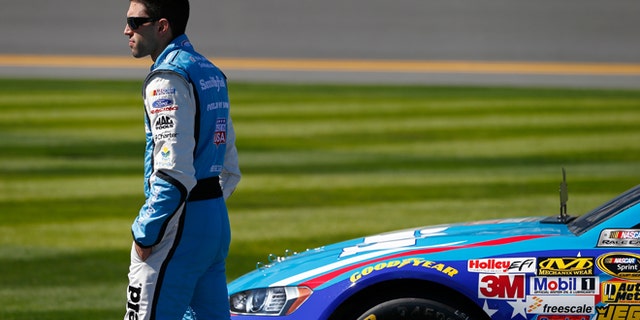 NEWYou can now listen to Fox News articles!
Starting out in the No. 13 pole position at this year's Daytona 500 is Aric Almirola, who hopefully isn't too superstitious about that number.
After all, the man they call "The Cuban Missile" has finished 13th at Daytona two years running.
"It's a lot of 13s, it's true," Almirola told Fox News Latino a few days before the first race of the 2014 NASCAR Sprint Cup Series, which is being aired on Fox Sports and in Spanish on Fox Deportes, Sunday, Feb. 23, at 1 p.m .
But don't expect a Cuban Missile crisis. As he points out, "Everything is different this year."
In January, Almirola, who is 29, signed multiyear contracts with Richard Petty Motorsports (RPM) and principal sponsor Smithfield Foods that ensure he won't have to do a lot of chasing after a spot on a race team or a major sponsor for three years.
"It's huge. When you look at the extremely successful drivers—Jimmie Johnson, Jeff Gordon, those guys—they all have that sort of stability," Almirola observed. "It's allowed us to hire the best people and get the best equipment."
Presumably, Almirola was thinking of his new crew chief (and Richard Petty's nephew), Trent Owens. As for any improvements on his No. 43 Ford, they probably won't be as evident this weekend as at other races since Daytona is one of a handful of Sprint Cup races that use restrictor plates, which cap the top speeds of the race cars.
"You're more at the mercy of the cars around you," Almirola said about driving a restrictor-plate race. "You can be riding smooth and easy, and then one driver will make a mistake and take out 20 other cars. That's why it's so exciting."
Almirola grew up with the excitement.
The son of an Air Force veteran and Tampa firefighter, he spent a lot of his youth "watching my grandfather race stock cars all over the southeast."
He started racing go-karts at age 8 and entered his first national competition at 14. He spent nearly a decade driving at regional NASCAR circuits and making occasional Sprint Cup race appearances.
He didn't get into Sprint Cup full-time until being signed by RPM in 2012.
There are Cuban-Americans on both sides of Almirola's family, but he isn't very fluent in Spanish.
"My dad came here and struggled because of language," he said. "So he was adamant that I would speak English."
Almirola is married with two infants—a one and a half year old son and a three-month old daughter.
"I'm trying to learn Spanish," he said. "I'll say stuff out loud at home, so my son Alex is learning words too."
Almirola meets more and more Latino NASCAR fans, he said, but not in some portions of the country. He believes that engaging the Latino market is something that the sport has to continue to do and get better at.
"Hispanics are the new face of America," he noted, "and it's important for NASCAR, this very American pastime, to take on that face."
Despite 12 Top 10 finishes, he's still looking for his first Sprint Cup victory. Does he have a Hélio Castroneves-style, climbing-the-fence celebration planned?
"I've got an idea what I want to do," Almirola said, "but I don't want to get ahead of myself. I have to get to victory lane first. Mostly I just want to make Richard Petty proud."