NASCAR working with Pocono to stop cars from spinning onto pit road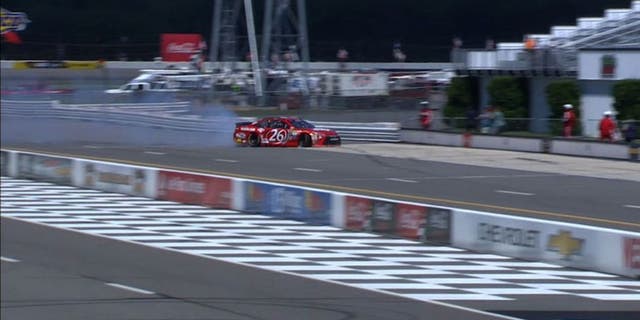 If another car spins off Turn 3 at Pocono Raceway and hits the inside wall to pit road, it won't be from a lack of effort to prevent it.
That was the gist of the message deliverered Monday by NASCAR executive vice president and chief racing development officer Steve O'Donnell on the heels of a weekend when three competitors spun off Turn 3 and struck the track's inside pit wall that separates crews and other infield spectators from the cars on pit road.
The incidents, all completely separate from each other, involved the Sprint Cup Series cars of Kasey Kahne and Jeb Burton and the NASCAR Camping World Truck Series entry of Ray Black Jr., respectively. While no one was hurt, spectators just on the other side of the wall could easily have been injured, along with any crew members that might have been standing in the area of pit road where the vehicles slid.
"Certainly, it's something you never want to see," O'Donnell said on SiriusXM NASCAR Radio. "We'll work with the track. We've already got a plan in place to look at extending that pit wall. Certainly (we've) got to make sure that by doing that you put the proper protection for the race cars and the drivers coming off of (Turn 3), as well. Some things for us to balance. We've got a plan in place to address that."
NASCAR hopes to work with Pocono Raceway officials on plans to extend the outer wall of pit road that is closest to the track, without putting drivers who might hit that wall at a high rate of speed at greater risk.
"Our commitment to driver safety is paramount," Pocono president and CEO Brandon Igdalsky said in a statement issued Monday. "We have made multiple upgrades and updates to our facility, with more safety improvements rolling out before the 2016 NASCAR season. We work hand-in-hand with NASCAR throughout the year to execute and implement these changes.
"Once NASCAR collects the data, as it pertains to the unique incidents involving Jeb Burton and Kasey Kahne from this past weekend, we will communicate with one another and develop the safest solution."
Extending the outer wall of pit road would theoretically be somewhat of a tradeoff since it would provide greater protection for those on pit road from cars that are spinning out of control in Turn 3, but it could lead to higher impacts for drivers who otherwise wouldn't hit the outer wall.
"We've got to look at the data coming out of each one of those cars, what the impacts were, what the angle of impacts, the speeds, what was the wall there and then make sure that when we put a solution in place that that's actually going to improve it," O'Donnell told SiriusXM.
"I know that sounds a bit flippant, but it's easy to say just extend the wall, but if you do that and you do it at the wrong angle, you could cause more problems with cars coming off at a heavy rate of speed off Turn 3 at Pocono. That's what we're looking at now -- how you extend that wall with the proper angle that keeps cars off pit road, which we always want to see, but make sure that we're able to protect the guys as they come out of (Turn) 3 at Pocono also."