NASCAR Sprint Cup race at Charlotte postponed until Sunday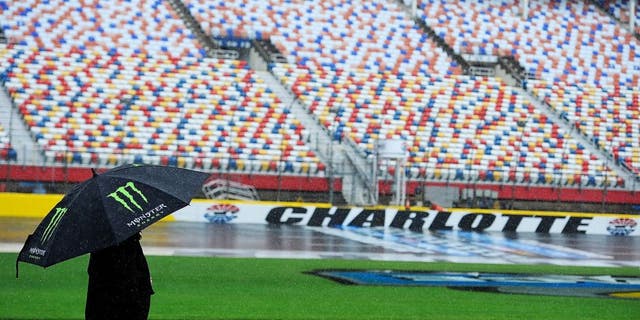 It's official: The Bank of America 500 NASCAR Sprint Cup Series race at Charlotte Motor Speedway has been postponed and now will be run on Sunday at noon ET.
The NASCAR XFINITY Series race will run 45 minutes after the Cup race concludes.
There was no on-track activity at CMS on Friday because of rain from Hurricane Matthew and rain is expected to continue at the track for most of this morning and late afternoon as well.
The Bank of America 500 is the first race in the Chase for the NASCAR Sprint Cup Round of 12. All 12 championship contenders enter the race tied with 3,000 points each.
Kevin Harvick will start on the pole in the No. 4 Stewart-Haas Racing Chevrolet. He'll be flanked by Alex Bowman, who again is filling in for Dale Earnhardt Jr. in the No. 88 Hendrick Motorsports Chevrolet.
With no practice on Friday and no rubber on the track for the start of the race, the teams will have a challenge to get setups right, especially early.
"It's going to be a little bit of a guess as to where the car needs to be for Saturday night," said Harvick. "So, I think there's a lot of good teams and a lot of good engineers that can hit it spot-on for the race."