NASCAR Race Hub airs live from Houston during week of Super Bowl LI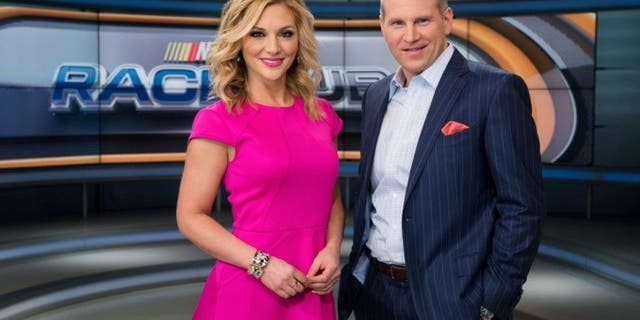 NEWYou can now listen to Fox News articles!
Less than a month before the Daytona 500, NASCAR's "Super Bowl," FS1's NASCAR Race Hub takes the show to Houston, site of Super Bowl LI, in the week leading into FOX's live broadcast of the big game.
In the days preceding FOX's live broadcast of Super Bowl LI (Sunday, Feb. 5 at 6:30 p.m. ET), NASCAR Race Hub, NASCAR's most-watched daily news and information program, airs live from Discovery Green in Houston Monday, Jan. 30-Thursday, Feb. 2 (6:00 PM ET on FS1).
Co-hosts Adam Alexander and Danielle Trotta anchor the one-hour program live from the FOX Sports Super Bowl set alongside analyst Larry McReynolds. The trio welcome a variety of analysts and special guests from the NASCAR world throughout the week, including FOX NASCAR analyst Jeff Gordon (Thursday) and 2016 DAYTONA 500 winner Denny Hamlin (Tuesday). Several additional guests will be announced in the near future.
NASCAR Race Hub, which was up 7 percent in total viewership year-to-year in 2016 vs. 2015, according to Nielsen Media Research, makes its 2017 season premiere on Monday, Jan. 23 at 6:00 PM ET on FS1. "Hub" kicks off the new year with three special manufacturer preview shows airing from NASCAR team race shops and performance centers the first week.
The Jan. 23 edition, airing from Hendrick Motorsports, focuses on Chevrolet teams. The Jan. 24 (6:00 PM ET) episode, originating from Joe Gibbs Racing, centers on the Toyota brigade, while the Jan. 26 (6:00 PM ET) installment airs from the Ford Performance Center.
Monday's Chevrolet preview show features interviews with Jimmie Johnson, Rick Hendrick, Richard Childress, Austin Dillon and Kyle Larson.
Tuesday's Toyota show features Kyle Busch, Denny Hamlin, Matt Kenseth, Martin Truex Jr. and Daniel Suarez.
Finally, Thursday's Ford-focused preview show includes interviews with new Ford team co-owner Tony Stewart and drivers Clint Bowyer and Kevin Harvick, as well as Brad Keselowski, Joey Logano, Danica Patrick, Aric Almirola, Ryan Blaney and David Ragan.
The Wednesday, Jan. 25 edition of NASCAR Race Hub airs live from the Hub studios in Charlotte at 6:00 p.m. ET with all the latest news heading into the new season.
FOX Sports kicks off its comprehensive Daytona Speedweeks programming on Friday, Feb. 17, with live coverage of The Clash at Daytona practice (5:00 p.m. ET on FS1), culminating with live coverage of the DAYTONA 500 on Sunday, Feb. 26 (2:00 PM ET with pre-race coverage beginning with FOX NASCAR Sunday at 1:00 p.m. ET) on FOX.