Napoli's Sarri: I don't remember using anti-gay slur on Mancini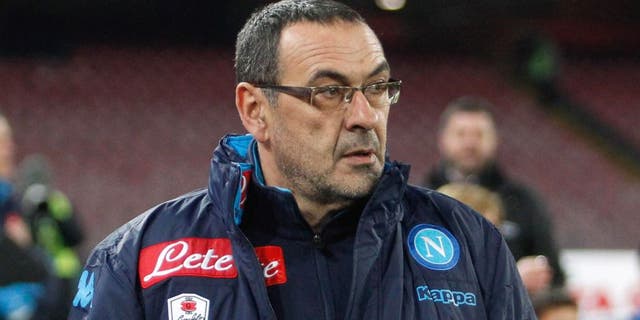 Napoli coach Maurizio Sarri admitted it is "possible" he used homophobic language in a touchline row with Inter counterpart Roberto Mancini during Tuesday's Coppa Italia quarterfinal, but claimed he cannot remember exactly what he said.
After Adem Ljajic put Inter 2-0 ahead in stoppage time, Sarri and Mancini clashed on the touchline with Mancini later accusing Sarri of using racist and homophobic language.
Sarri said the row should stay on the pitch and admitted it was "possible" he had used a homophobic slur against Mancini in the heat of the moment.
Mancini accused Sarri of calling him "finocchio" and "frocio" which are both homophobic slurs in Italian, and called Napoli's coach a "racist."
When asked by reporters if he used homophobic language in the row with Mancini, Sarri said: "I can't remember, it's possible. I was fired up and angry, so I'm not sure what I said. Adrenaline does strange things to people and can trip you up. Am I homophobic? That seems over the top. I was just irritable."
After his team's 2-0 defeat, Sarri added: "As far as I'm concerned, it was part of the game and at the 90th minute it's all over. It was the kind of argument that people have on the touchline or on the pitch. I apologized to him in the locker room, but I expected him to apologize to me too. I think what happened on the pitch should stay on the pitch."
The former Manchester City boss did not
''Sarri is a racist. Men like him cannot be in football,'' Mancini told Rai Sport. ''I got up to ask the fourth official why there were five minutes of added time. He then began to rant at me, shouting `f-----' and `p---' at me. He's 60 years old, he should be ashamed. I am not interested in talking about the game. This cancels out everything. ... I went to find him in the locker room and he apologized, but I replied that he has only to be ashamed. In England, someone like him wouldn't even be allowed on a training pitch.''
Mancini did not attend the post-match news conference.
Sarri said he ''lost clarity of thought'' after the dismissal of Napoli winger Dries Mertens, with two minutes remaining, following a second booking for diving in the penalty area.
''I was annoyed at the decision on Mertens, I didn't have anything against Mancini,'' Sarri said. ''I apologized to him ... I think that tomorrow he will accept my apology. I don't even remember what I said. Maybe I offended him, but it should end there."
Sarri added: "Am I homophobic? That seems over the top. I said something out of rage ... I was not discriminating against anyone. However, if I did use words that could have offended the gay community, I clearly apologize.''
Information from The Associated Press was used in this report.