Nagbe has sprained ankle from de Jong, return uncertain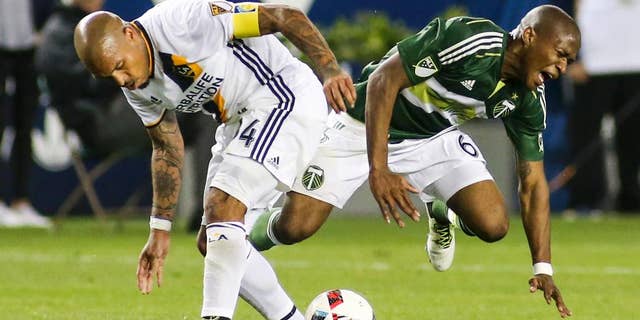 NEWYou can now listen to Fox News articles!
PORTLAND, Ore. – Timbers midfielder Darlington Nagbe has a sprained left ankle and won't play in Portland's game against Dallas Wednesday night, becoming the latest player to miss time because of a Nigel de Jong challenge.
Coach Caleb Porter confirmed Nagbe's injury following practice on Tuesday. Nagbe also is likely to miss Saturday's game against New York City.
Nagbe, who made his U.S. national team debut in November, was taken from the field on a stretcher following de Jong's hit in the game against the Los Angeles Galaxy. Nagbe left StubHub Center in a wheelchair.
De Jong broke the legs of American midfielder Stuart Holden and Newcastle' winger Hatem Ben Arfa in 2010, the same year the Dutchman kicked Spain's Xavi Alonso in the chest during the World Cup final.
Referee Allen Chapman gave de Jong a yellow card Sunday. Major League Soccer's disciplinary committee could issue a suspension.