Nadal wants to talk about the future, not his knee, as he prepares to defend Monte Carlo title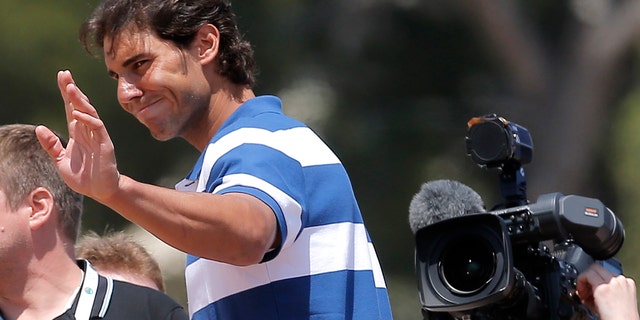 MONACO – Rafael Nadal will talk about almost anything except his knee.
He has made a strong return after being out seven months with an ailing left knee. He reached the final of the four tournaments he's played and won three, off to career-best 17-1 start to the season. Now the Spaniard is trying to win the Monte Carlo Masters for the ninth straight time.
"A lot of talk about the knee for the last year, and I think it's not good to talk about that anymore. I'm here and competing and so I prefer to focus on the tennis," Nadal said Monday. "Talking (about) the knee every day doesn't help ... (whether) the knee is 50, 90, 80, 100 percent doesn't change the situation that I am going to be in."
His Monte Carlo winning streak stands at 42 matches, and Nadal is aiming to extend his Masters record to 23 titles.
Speaking before his second-round match on Wednesday, Nadal was eager to shift the conversation from his long spell on the sidelines. He returned to competition in February after missing the London Olympics and two Grand Slam tournaments.
After losing to Horacio Zeballos on clay in the final at Vina del Mar, Chile, Nadal won clay-court titles at Sao Paulo and Acapulco, Mexico, before beating Juan Martin del Potro on hard courts in the final at Indian Wells, Calif., for his 22nd Masters title.
"To have that success was just a dream for me," he said. "It was a big surprise, especially for me (given) my situation. A lot of good feelings and fantastic emotions in Latin America and then in Indian Wells. But that's past. We're here in Monte Carlo."
The Indian Wells victory touched Nadal deeply. He collapsed on his back when he won, got up, hugged Del Potro and then dashed to his team in the stands for hugs. Then he fell to his knees on the court, basking in the adrenalin rush of winning a big title again.
Such feelings were hard to find during his time away. So he invested himself in the triumph of others — cheering on Andy Murray to beat Roger Federer to win the Olympic gold medal.
"I was emotional when Andy won the Olympics — he deserved something like this — and then he won the first U.S. Open. A long time ago I say he will win a Grand Slam and finally he did so I'm very happy," Nadal said. "When somebody deserves something, I'm emotional. It's like when I lost in 2009 in Roland Garros. It sounds strange, but I lost the No. 1 to Roger in that tournament but I really wanted Roger to win the tournament."
At Monte Carlo, only former French Open runner-up Guillermo Coria knows what it's like to beat Nadal — and that was 10 years ago.
Nadal, who missed the 2004 tournament because of injury, has a 44-1 record that he is expected to extend against either 2010 finalist Fernando Verdasco of Spain or Australian Marinko Matosevic in the second round. He could face the second-seeded Murray in the semifinals.
Nadal is 26 now, but his signs of clay-court supremacy were evident when he was 16.
He beat 2002 French Open champion Alberto Costa late at night before pushing Coria — who won at Monte Carlo and reached the Roland Garros final a year later — to a first-set tiebreaker.
"It was the first big tournament I played. ... Just to be here in 2003 was a big dream," he said. "I lost against Coria — he played the final here that year. I went past the qualifier, I won against (Karol) Kucera, I won against Albert Costa. To play a competitive match against one of the best players of the moment — Coria — was just amazing for me."