Nadal Headed To Australian Open Final After Once Again Beating Federer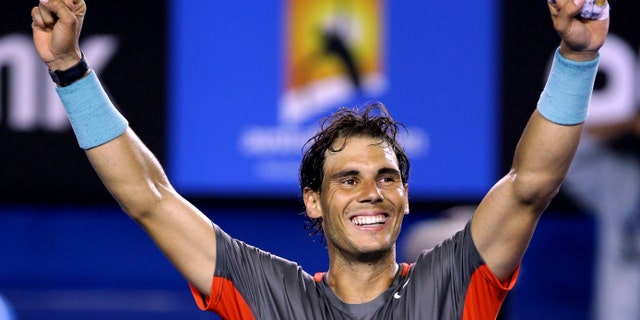 MELBOURNE, Australia (AP) – Rafael Nadal continued his dominant streak over Roger Federer to reach the Australian Open final for the third time, beating the 17-time major winner 7-6 (4), 6-3, 6-3 Friday night to set up a championship decider against No. 8-seeded Stan Wawrinka.
Nadal has won 23 of his 33 matches against Federer, including nine of 11 in the majors. The 27-year-old Spaniard is now one victory away from becoming the first man to win all four majors at least twice in the Open era, and from joining Pete Sampras in second place on the list of all-time Grand Slam winners with 14.
At the end of the night, Federer knew he wouldn't even be the No. 1-ranked player in Switzerland next week. By reaching the final, Wawrinka ensured he'd replace Federer as their country's highest-ranked player for the first time.
Nadal missed the 2013 Australian Open during a seven-month layoff for illness and a knee injury, but returned to win the French and U.S. Opens among his 10 titles for the season and finished the year at No. 1.
"It's really, really emotional for me to be back on this court, Rod Laver Arena, and to be able to play another final," Nadal said. Rod Laver was in the crowd, and so was Sampras, who said he was watching a Nadal-Federer match live for the first time.
His previous Grand Slam match against Federer was here in 2012, when he beat him in four sets in the semifinals before losing a five-set, five-hour, 53-minute final to Novak Djokovic.
Nadal is now second on the list of players reaching Grand Slam finals, joining Ivan Lendl at 19 — Federer leads the list with 24, but hasn't figured in a major final since winning Wimbledon in 2012. He hasn't beaten Nadal in a Grand Slam match since 2007, but after holding off Wimbledon champion Andy Murray in the quarterfinals, and with new coach Stefan Edberg helping fine tune his game, Federer was more confident this time in an arena where he's won the title four times.
He served and volleyed, he played with good touch, he played drop shots, he tried everything, but his 50 resulting unforced errors were double Nadal's 25.
Nadal hit 13 of his 28 winners on his powerful left forehand, attacking Federer's one-handed backhand yet again.
"First of all, to play with Roger is always a very special feeling, he's probably the opponent that when I go to court I have very, very emotional feelings," Nadal said. "We play a lot of times for important things in our career. And today was another important match."
Nadal beat Federer here in 2009 for his only Australian Open title — he's won every other major at least twice. Clearly, he lifts for matches with his oldest rival.
"I think tonight I played the best match of the tournament, so happy about that," Nadal said.
The crowd was overwhelmingly behind the 32-year-old Federer, growing more animated the further he fell behind. There was a huge cheer when Federer won a challenge on a call to hold and make it 2-all in the second set after facing break point. The first break of the match came in the sixth game of the second set, giving Nadal a 4-2 lead.
Federer then got a standing ovation and a giant roar from the crowd when he broke Nadal back to make it 2-all in the third set, immediately after dropping serve in the previous game.
The crowd chanted, "Let's go, Roger," until Federer was ready to serve again. He was broken again soon after.
Nadal struggled with a blister on the palm of his left hand in his last two matches, but he removed the heavy tape that affected his serve in his quarterfinal win over Grigor Dimitrov. A TV camera got a close-up view of the blister when he took a medical timeout after the first game of the second set, drawing gasps and groans from the crowd.
"Too much talk about the blister. The blister is okay," Nadal said in his on-court interview. "The problem ... is the position of the blister, it's difficult."
He added, "We tried to make the bandage a little bit less, shorter than the other day."
Wawrinka beat Tomas Berdych in four sets on Thursday night to reach his first major final, getting an extra day off ahead of Sunday's championship match.
Follow us on twitter.com/foxnewslatino
Like us at facebook.com/foxnewslatino