Nadal And Ferrer Set Up An All-Spanish Final At French Open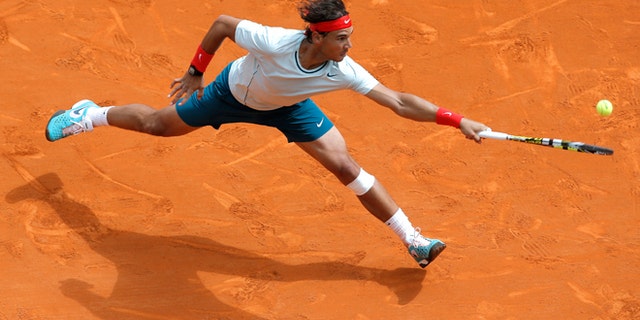 PARIS – David Ferrer smashed Jo-Wilfried Tsonga's hopes of ending France's 30-year wait for a men's Grand Slam champion and set-up a Spanish duel for Sunday's final against Rafael Nadal at the French Open.
Nadal battled his way through a ferocious encounter with top-ranked Novak Djokovic to win 6-4, 3-6, 6-1, 6-7 (3), 9-7 and reach his eighth French Open final.
But for Tsonga it was a case of a missed opportunity to reach his second major final, after the Australian Open final in 2008.
Ferrer was 0-5 in major semifinals and hadn't reached the final in his 41 previous major tournaments. But he dispatched Tsonga 6-1, 7-6 (3), 6-2.
"You can always go over it again and say 'I should have done this or that, I could have done that,'" said Tsonga, who downed 17-time Grand Slam champion Roger Federer in straight sets in the quarters. "I would have liked to play better tennis. It wasn't the case."
Yannick Noah remains the last Frenchman to win a major at the French Open in 1983.
"Frapper Fort," (Hit Hard) was French sports daily L'Equipe's headline on Friday — with a photo of the barrel-chested Tsonga clenching his fist in a dynamic pose.
"Honestly, I felt good," Tsonga said, playing down the weight of expectation on him to try and end his nation's men's drought in majors. "I wasn't stressed."
Ferrer might be on Sunday, though, considering he has lost 16 consecutive matches to Nadal on clay and trails him 19-4 overall.
"I need to play very aggressive all match," Ferrer said.
The level of play in Nadal's 35th career match against his No. 1 rival Djokovic was the best of the tournament so far, and captivated the crowd so much that the feeling of anticlimax was evident when Tsonga walked out onto a half-full center court.
"The stands weren't full, they were half empty," Tsonga said. "It was a bit weird."
It would have taken something really special to beat the drama of Nadal's win, however, and a feeling of despondency enveloped the crowd after the fleet-footed Ferrer wrapped up the first set in 33 minutes.
"What surprised me was that he was even faster than usual," Tsonga said. "Sometimes it was a bit unsettling."
At times, the crowd did try to lift his spirits.
He got chants of 'Tsonga, Tsonga' when he broke Ferrer at the start of the second set and then held for 3-0; and when he held for 5-4 there were sporadic cries of "Allez, Jo!" (Come on, Jo!).
But it all seemed halfhearted.
In the 10th game, with Ferrer 0-15 down and under some pressure, Tsonga argued with the umpire, dropping to his knees and biting the handle of his racket in disbelief at the call. That body language summed up his afternoon: despondent.
There was a subdued mood just before the tiebreaker — as if there was no real expectation that Tsonga could level the match. That proved to be right, as Ferrer totally dominated it, clinching it with a drop shot.
Tsonga trudged despondently to his chair and soon lost his composure early in the third set; shouting "Ah, non!" (Oh, no!) at himself after sending a wild backhand long.
When he lost his serve in the fourth game to trail 3-1 in the third set, there was little in the way of encouragement, and it was pretty much left to Tsonga to fend for himself.
Serving at match-point down, Tsonga berated himself with "Mais, combien de fois la!?" (How many more times!?) as he failed to get his first serve in.
For the 31-year-old Ferrer, the hard work starts on Sunday.
Based on reporting by The Associated Press.
Follow us on twitter.com/foxnewslatino
Like us at facebook.com/foxnewslatino