Myles Jury: No one is going to beat me at featherweight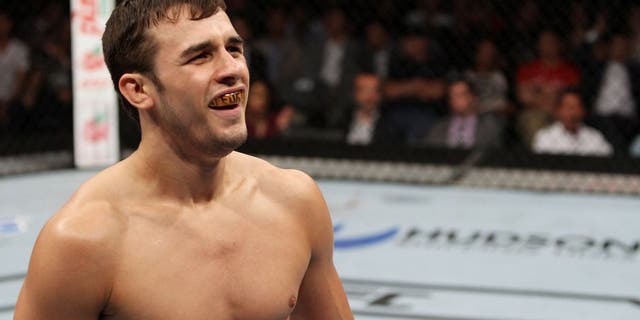 NEWYou can now listen to Fox News articles!
Since pulling out of a scheduled fight last month with former lightweight champion Anthony Pettis, contender Myles Jury has comitted himself to moving down to featherweight. Now, he's set to fight Charles Oliveira in Orlando, this coming December.
Jury's move down a class seemed to be influenced both by a desire to get healthier, as well as to gain an additional advantage over opponents. "I'm training hard and I'm eating good," Jury recently told MMA Fighting.
"What am I gonna do? I'm not [former two-division UFC champion] B.J. Penn. I'm not a world champion yet trying to fight up a weight class. I should be in the lowest weight class and have the advantage of being a bigger guy."
Jury last fought in Jan. against Donald Cerrone, losing a decision. Now that he's found himself in the upper echelons of the UFC, Jury doesn't want to leave anything to chance.
"I feel like I'm adding just another advantage to my overall game," he continued.
"I feel like when you're fighting the top-five guys in the world and you're going for a world title - that's still my main goal, that hasn't changed, that's what I'm here for - if I get another advantage going into war on my side, that just increases my odds of winning. And that's what I want to do. I feel really good about the decision."
Though he never seems to lack for confidence, "Fury" feels particularly strong, mentally, now that he knows he'll be leaner than before, and perhaps bigger than featherweight opponents.
"I was hell on wheels at 155," he concluded.
"At [featherweight], nobody is gonna beat me. I just want to get this first fight, get the cut down and go through that process. After that, I'll be able to take on anybody."