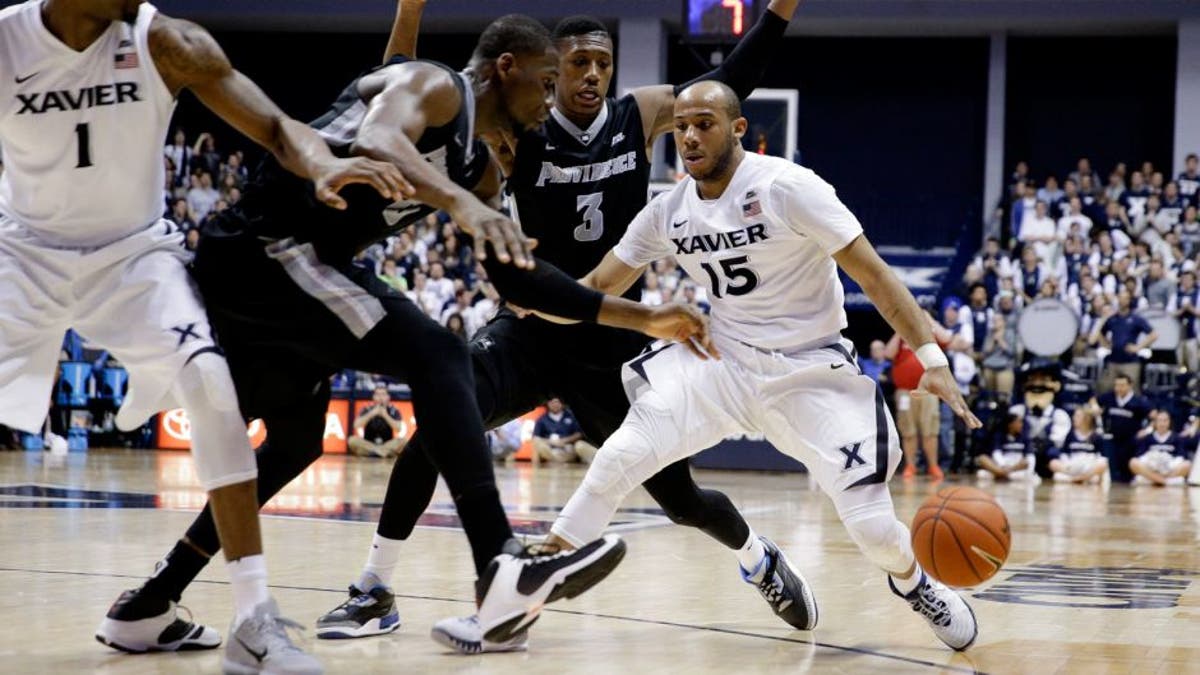 CINCINNATI -- Myles Davis needed only one point for a triple-double. He wasn't sure he'd get the chance, which was quite a surprise for one of Xavier's best shooters.
The shooting guard went to the free-throw line with 37 seconds left and made 'em both for Xavier's first triple-double in five years, leading the eighth-ranked Musketeers to an 85-74 win over No. 23 Providence on Wednesday night.
"It's one of those things where you're trying hard not to pay attention to it," said Davis, who had 11 points, 12 rebounds and 12 assists. "It's amazing. It's a great feeling to have it. It's something you try to knock off your bucket list as a basketball player."
Trevon Bluiett scored 17 of his 23 points during Xavier's big first half, when the Musketeers (23-3, 11-3 Big East) piled up 52 points. They pushed the lead to 21 in the second half and withstood a late run by the Friars (19-8, 7-7) that cut the lead to six.
Davis was a steadying hand with Xavier's first triple-double since point guard Tu Holloway against Fordham on Feb. 19, 2011. Jalen Reynolds had 10 points and 15 rebounds, matching his season high on the boards.
"I wasn't making a shot tonight," said Davis, who was only 3 of 9 from the field and missed 3 of 4 shots from beyond the arc. "I was kind of mad about that."
Kris Dunn scored 23 for Providence, which has lost four of its last five. The Friars couldn't handle Xavier's inside game -- the Musketeers had a 32-10 advantage in points in the paint -- and couldn't stop Davis.
"He's their smartest player," coach Ed Cooley said. "He's their leader. He's their best overall thinker. He's the captain of their ship."
The Musketeers also won 75-68 at Providence on Jan. 26 with a big second-half rally. This time, they just had to hold on.
Xavier made 10 of its first 14 shots, including 4 of 5 from beyond the arc, while pulling away to a 26-12 lead. The Musketeers forced six turnovers that led to fast-break layups and dunks, padding their shooting statistics. The Friars called a pair of timeouts to try to blunt the opening run.
The Musketeers pushed the lead to 39-23 late in the half as the Friars lost their cool. Drew Edwards was called for an intentional foul against J.P. Macura. Cooley got a technical foul while arguing that call.
The Musketeers led by as many as 18 points in the half and were up 52-37 at the break, their second-most points in an opening half. Xavier was 7 of 12 from beyond the arc against the Friars' zone defense. Providence had 11 turnovers in the half.
Xavier missed five of its first six shots in the second half, and Providence cut the deficit to 54-47. Xavier responded with a 15-1 run and then went more than 6 minutes without a field goal as Providence got within 72-66.
Xavier put it away with nine free throws in the closing minutes.
SUMNER SIDELINED
Xavier point guard Edmond Sumner had 11 points in only 12 minutes. He picked up his third foul in the opening minute of the second half, sending him to the bench. He got back in, made a basket and hurt a knee. Coach Chris Mack said he could have gone back in but was held out as a precaution.
TIP-INS
Providence: The Friars are 4-4 against Top 25 teams this season.
Xavier: The Musketeers have won all four games at the Cintas Center involving a pair of Top 25 teams, including two this season. The last one was an 88-69 win over Butler on Jan. 2, when Xavier was No. 6 and Butler No. 9.
UP NEXT
Providence hosts Seton Hall on Thursday, Feb. 25.
Xavier visits Georgetown on Saturday.