MWR crew chiefs face tough challenge in keeping teams focused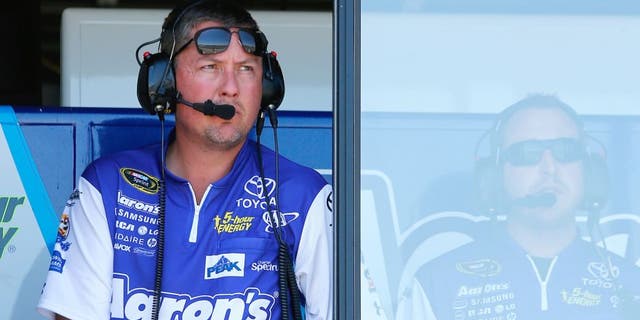 As the saga continues to unfold surrounding Michael Waltrip Racing, crew chiefs Brian Pattie and Billy Scott have the difficult task of keeping the teams motivated and focused on the job at hand.
Earlier this week, MWR informed the North Carolina Department of Commerce it would lay off a total of 217 employees beginning Nov. 1. However, many of those employees are tasked with building and tuning on race cars week-in and week-out, while trying to contend for wins and make the Chase for the Sprint Cup.
"We're just remaining focused on the job at hand," said Scott, crew chief on Clint Bowyer's No. 15 Toyota. "Everyone in this garage is a group of racers, and we're here to race, to win, to make the Chase and contend for a championship. That part has not changed. We just take the punches, roll with it and keep digging."
With news coming out prior to the Bristol race two weeks ago that MWR would shut down for good at the end of the 2015 season, employees were left with much uncertainty about their futures.
Earlier this week, employees of the company gathered at the organization's Cornelius, North Carolina, shop and told what was going on behind the scenes.
"We got sat down as a company, and they went through everything this past week," Pattie, the crew chief for David Ragan, told FOXSports.com Friday at Darlington Raceway. "We all got the same news at the same time, which is probably the best way to do it. Some people knew more than others heading into this week, but it is what it is.
"The end is the same, but we're going to work hard for the next 12 weeks and try to get Ragan, Toyota and Aaron's in Victory Lane," he said. "If we continue to have the speed we've had the last few weeks, we'll have a shot."
Both longtime members of the NASCAR garage, Pattie and Scott have seen turnover before and know what it takes to keep their guys moving forward and away from the off-track distractions.
"I've been in this sport for a long time --€" since I graduated high school in 1993. I've seen stuff come and go," said Pattie. "No worries here, but I'm definitely trying to keep my guys focused and motivated on the end goal. We've had a lot of speed here the last six-eight weeks, and we're having tons of fun. I just want that to continue for the next 12 weeks.
"I'm just doing my part, which is managing the team. Just making sure everyone is focused; that's probably the hardest part."
"Everybody's working," said Scott. "Everybody knows everybody. It's a small community. Reputations speak for themselves and we're all here to win, and we're just going to keep trying to do that."
Still, Scott said it is never too early to talk with other organizations and work on plans for the future.
"But the timing just has to be right," he said. "Everybody has a lot going on with their own Chase concerns and everything they were dealing with before this. You just wait for the right opportunity. It's no different. There are other people that face the same challenges even without the (MWR) closure and everything."
Despite the drama behind the scenes and MWR's struggles on the track over the past year, Pattie had nothing but good things to say about the organization and its leaders.
"This is my fourth year (at MWR), and it's a great place to work. Great people, a very relaxed atmosphere, a racer mentality, it's great," he said. "It's run pretty efficiently. Cars are fast. We had really strong cars in 2012 and 2013, given our points runs. We fell off a little bit in 2014 and this year. We've had a lot of turnover in certain areas in 2014 and 2015. We've worked hard since Charlotte (in May) to turn our program around, and it's starting to show a little bit. It's just hard work."
That hard work will have to continue over the final 12 weeks of the season as well. Bowyer is 16th among 16 Chase-eligible drivers, but needs to be on point this weekend at Darlington Raceway and next weekend at Richmond International Raceway if he wants to maintain his position. If Ragan can find Victory Lane in the next two races, he, too, could be a part of the Chase -- possibly at Bowyer's expense.

No matter what happens, the crew chiefs will be tasked with keeping their crew members focused on the job at hand and not the next one after MWR.