Must-win games for Flames, Hawks on Friday slate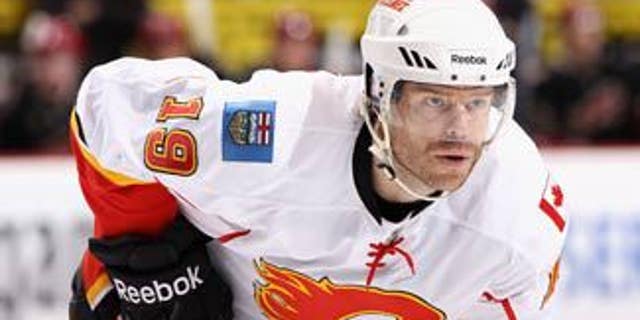 NEWYou can now listen to Fox News articles!
It's April 1, there are 10 days left in the regular season and the playoff races in each conference are still on fire and so many games have added meaning with points at such a premium. As always, NHL.com is here to give you a Down the Stretch daily that will highlight what you need to know about the games that directly impact the playoff races.
Here is the installment for Friday, April 1:
CHICAGO (41-27-8, 90 points) at COLUMBUS (34-31-12, 80 points)
Where they stand: Chicago is eighth in the West; Columbus is 13th in the West
What's at stake: Chicago can move closer to a playoff berth with a win. Its lead on Dallas and Calgary for the final playoff spot in the Western Conference is three points. The Stars will have a game in hand after Friday, but Chicago has three more non-shootout wins than Dallas. Non-shootout wins are the first tiebreaker at the end of the regular season. The Hawks have two games in hand against the Flames, who can't catch them in non-shootout wins.
How's it going: The Blackhawks were not happy with the effort they gave in Tuesday's 3-0 lossin Boston. They might have been due for a letdown after winning an emotional and intense game Monday in Detroit, but the Hawks refused to blame tired legs or a lack of emotion for their performance at TD Garden. They instead said they were guilty of standing around and not matching the Bruins physicality, especially in front of the net. The Blackhawks had 32 shots on goal, but made Tim Thomas work for only a few of his saves.
Columbus lost in overtime at Washington on Thursday.
Upcoming: The Blackhawks return to United Center to play Tampa Bay on Sunday. They travel to Montreal on Tuesday and come home to play St. Louis on Wednesday before closing the season with a home-and-home against Detroit starting Friday at Joe Louis Arena. The Blue Jackets host the Blues on Sunday and go back to trying to play spoiler next week with games in Dallas and Nashville.
PHILADELPHIA (46-21-10, 102 points) at NEW JERSEY (35-36-5, 75 points)
Where they stand: Philadelphia is first in the East; New Jersey is 12th in the East
What's at stake: The Flyers can lower their magic number to clinch the Atlantic Division title to two points with a win. A win would also give them a three-point cushion on Washington for first in the Eastern Conference. The Flyers had it at three heading into Thursday's action, but they lost in regulation to Atlanta and the Capitals beat Columbus.
How's it going: Despite getting 43 shots on goal Thursday night the Flyers still lost a 1-0 decision to the Thrashers at Wells Fargo Center. They haven't won at home since March 8. Sergei Bobrovsky, who might sit in favor of Brian Boucher on Friday, has been stellar since he got the hook after 20 minutes against Washington last week. Bobrovsky has stopped 112 of 117 shots in his past four starts, but he's only won two of them. The Flyers also got bad news about Chris Pronger on Thursday. GM Paul Holmgren said he suffered a "minor setback" in his recovery from hand surgery and is likely not going to return in the regular season.
The Devils are still not mathematically eliminated, but for all intents and purposes their miracle second-half run has fallen short. They are looking to finish strong so they can put a positive note on their first season without a playoff berth since 1996.
Upcoming: The Flyers host the Rangers on Sunday afternoon and play Ottawa, Buffalo and the Islanders to close the regular season. The Devils host Montreal on Saturday and play four games next week against the Penguins, Maple Leafs, Rangers and Bruins.
CALGARY (38-29-11, 87 points) at ST. LOUIS (35-32-10, 80 points)
Where they stand: Calgary is 10th in the West; St. Louis is 12th in the West
What's at stake: Calgary's playoff hopes are hanging by a thread, especially after losing to Anaheim in regulation Wednesday. The eighth-place Hawks and ninth-place Stars each have two games in hand on the Flames, who can only reach 33 non-shootout wins. The Hawks already have 36 and Dallas has 33. Best-case scenario: The Flames beat the Blues and Chicago loses in Columbus, meaning Calgary will be one point back. Worst-case scenario: The Flames lose in regulation and Chicago wins, meaning the Flames will be on the brink of elimination.
How's it going: Well, not that well for the Flames, who really can't afford to lose another game in regulation. Take it one further and you could make a case that the Flames have to win their final four games. Their 4-2 loss to Anaheim on Wednesday was a killer because the Blackhawks opened the door for them to get closer by losing in Boston on Tuesday. Calgary is 2-5-2 in its past nine games.
The Blues clearly aren't going to go away quietly. That was obvious Wednesday when they crushed Detroit in Detroit, 10-3, for their third win in the last four games (3-0-1). The Blues will be mathematically eliminated if they lose or Chicago picks up one point.
Upcoming: The Flames go to Denver on Sunday and come home to finish the season against Edmonton and Vancouver next week. The Blues play in Columbus on Sunday and come home to play Colorado next Tuesday. They're at Chicago on Wednesday and finish the season at home against Nashville on Saturday.
COLORADO (28-40-8, 64 points) at PHOENIX (42-25-11, 95 points)
Where they stand: Colorado is 14th in the West; Phoenix is fourth in the West
What's at stake: The Coyotes can expand their lead for home-ice advantage in the first round to three points on Los Angeles and Nashville. They got some help Thursday from the Canucks, who beat the Kings, 3-1.
How's it going: The Coyotes are 3-2 so far on their six-game homestand that ends Friday against the Avalanche. They are 9-2-1 over their past 12 games. Ilya Bryzgalov has allowed only 14 goals during his past nine starts, and that includes the four San Jose got past him this past Sunday. He made 44 saves Tuesday in a 2-1 shootout win against Dallas to tie the franchise record for wins at 129. David Schlemko has been a surprising factor for the Coyotes. He scored their lone goal against Dallas and has 3 points in the past four games.
The Avalanche lost their fourth in a row Thursday, dropping a 3-2 decision at home against Nashville.
Upcoming: The Coyotes will be off until Wednesday when they play in Los Angeles. They finish the season with a home-and-home against San Jose starting Friday at Jobing.com Arena. Colorado goes home to play Calgary on Sunday.
Follow Dan Rosen on Twitter at: @drosennhl