Muscle Injury Forces Venus From Australian Open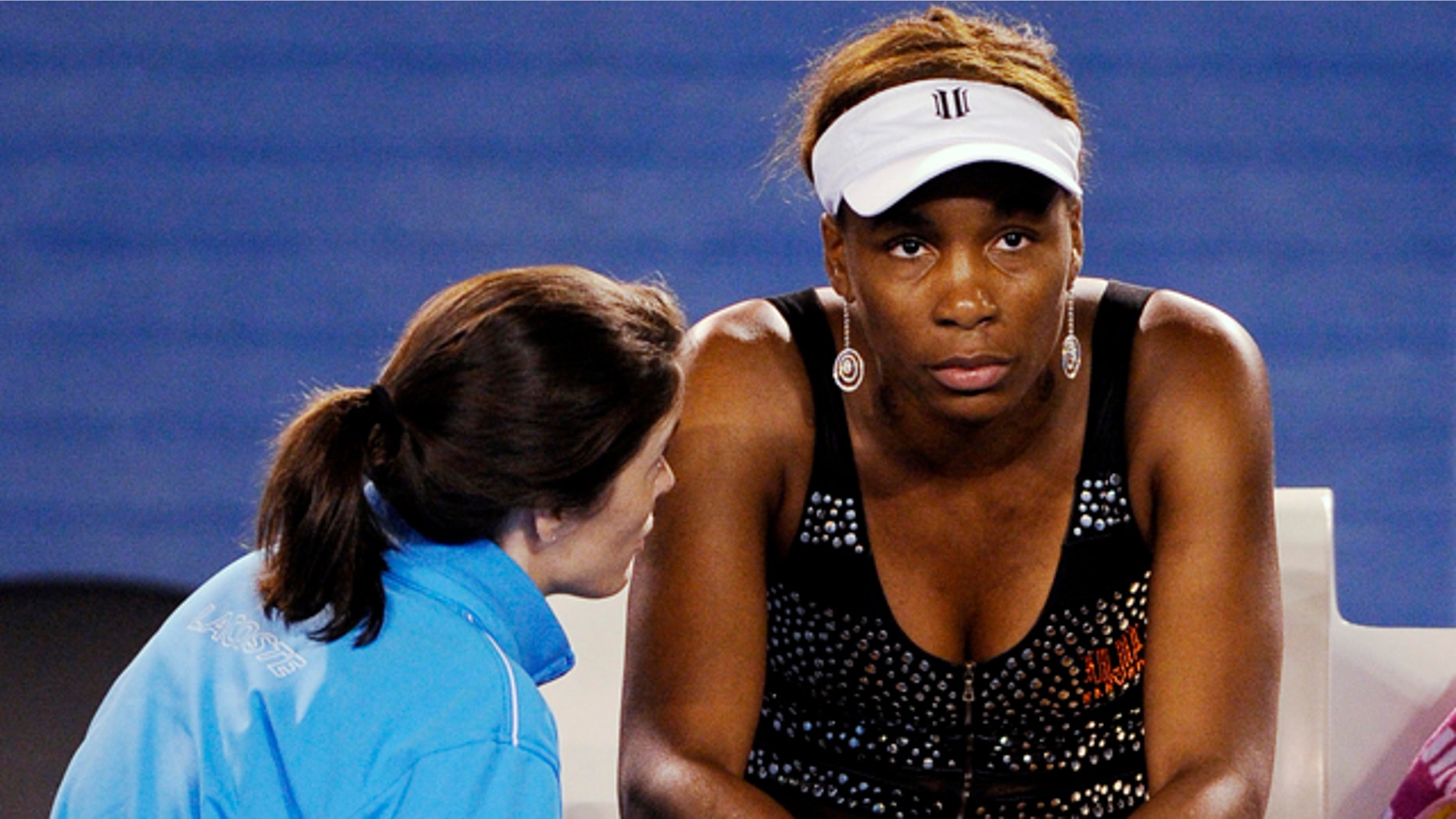 MELBOURNE, Australia – Clutching her side and crying out in pain, Venus Williams lasted just seven points Friday at the Australian Open and withdrew from a Grand Slam singles match for the first time.
After losing the first game of her third-round match to Germany's Andrea Petkovic and trailing in the second, Williams stretched to her right to return a serve. She hit the ball and then reached toward the right side of her stomach. It was soon clear she had to stop.
"Obviously I just couldn't play," the seven-time Grand Slam winner said. "I couldn't move. It was too painful."
Her withdrawal came on a day when 11th-seeded Justine Henin was beaten by No. 23 Svetlana Kuznetsova. No. 1 Caroline Wozniacki, her comic touch in excellent form after the match, and No. 14 Maria Sharapova also advanced. Winning on the men's side were No. 2 Roger Federer, No. 3 Novak Djokovic, No. 6 Tomas Berdych and No. 8 Andy Roddick.
Williams' right thigh was already heavily bandaged from an injury she sustained in the first set of her second-round match Wednesday — a three-set victory over Sandra Zahlavova.
Williams said the injury was in the muscle that flexes the hip and spinal column.
"The last 48 hours, I just did as much pain management as I could," she said. "A lot of times when you play, you get that adrenalin and that blocks pain. I just didn't get enough of that today. I was hoping for some magic that I could recover."
The 30-year-old Williams waved to the Rod Laver Arena crowd and appeared on the verge of tears as she walked off the court. Her younger sister, defending champion Serena, is not playing at Melbourne Park because of a foot injury.
"It's super disappointing because this is just not how I envisioned my Australian Open being," Venus Williams said. "I'm just going to focus obviously on getting healthy and coming back, because I love tennis and I've got a lot of great tennis in me."
Petkovic was surprised by the sudden end.
"I feel very weird about how the things went," she said. "It's a pity, and I feel very sorry. I just hope she gets better. She's such a great champion."
Henin, the 2010 finalist, was beaten Kuznetsova, a two-time Grand Slam winner, 6-4, 7-6 (8) in the third round.
Wozniacki provided as much fanfare in her post-match news conference as she did during her 6-4, 6-3 win over Dominika Cibulkova. Pretending to be irritated at being considered "boring" by some critics, she came prepared with a monologue to answer any question that might be asked about the match, and then some.
"I always gave the same answers," Wozniacki said. "I find it quite funny because I always get the same questions, so I'm just going to start with the answer."
What transpired was one of the funniest schticks at the tiered news conference room under Rod Laver Arena. Once she got the usual match comments out of the way, Wozniacki had a chance to be asked about global warming, her prowess on the piano, the game of cricket and what she's looking for in a boyfriend.
"Hopefully this was a little bit different than usual, and now you can maybe give me some questions that are a little bit more interesting," the 20-year-old Dane said.
Henin and Kuznetsova didn't have much fun following Wozniacki on the court. Kuznetsova twice had chances to serve out the match, but Henin broke her both times.
Henin was only weeks into a comeback from a career break from the tour when she lost the final last year to Serena Williams, the third time in four appearances she had reached the championship match at Melbourne. Her comeback season was derailed when she injured her right elbow at Wimbledon and didn't play again in 2010.
"There's no excuse, even if I know I'm not at 100 percent. She was better than me today," Henin said in remarks translated from French. "I made way too many errors."
It was Henin's first loss in a major to Kuznetsova, the former French and U.S. Open champion, and her worst run at a Grand Slam event since Wimbledon in 2005.
Sharapova, who won the 2008 Australian women's title, struggled to a 4-6, 6-4, 6-4 win over Julia Goerges of Germany. French Open champion Francesca Schiavone of Italy also won, beating Monica Niculescu of Romania 6-0, 7-6 (2).
No. 9 Li Na of China, who reached the semifinals last year before losing in two tiebreaker sets to eventual champion Serena Williams, advanced 6-2, 6-1 over Barbora Zahlavova Strycova.
Schiavone and Kuznetsova, who will play each other in the fourth round, had what Kuznetsova called a misunderstanding after a Fed Cup match won by Italy over Russia.
"We didn't talk for some time, I didn't shake her hand," Kuznetsova said. "So after we spoke in the locker room ... we are completely over it. I said sorry or whatever."
Federer was back to his vintage best, beating Xavier Malisse 6-3, 6-3, 6-1. While the defending champion also won in straight sets in his opening-round match against Lukas Lacko, he was extended to five tough sets against Gilles Simon in the second round, a nearly five-hour match that Federer said he was he relieved to survive.
On Friday at Rod Laver Arena, there was no such drama for the Swiss star, who is chasing his fifth Australian title. It took him 1 hour, 45 minutes to beat Malisse and earn an Open Era-record 57th match win at the Australian Open, breaking Stefan Edberg's mark.
"I'm OK today, and I'm happy I was able to come through it," Federer said. "Surely it's not the easiest thing to come back after a five-setter, but I managed."
Federer will play Tommy Robredo, who beat Ukraine's Sergiy Stakhovsky 5-7, 6-2, 6-4, 6-2.
Roddick overcame a slow start before powering to victory with 32 aces to beat Robin Haase 2-6, 7-6 (2), 6-2, 6-2. Roddick is seeking to win his second Grand Slam title nearly seven years after his first — the 2003 U.S. Open.
Haase appeared to stumble on a shot early in the first set and needed to have his ankle heavily taped. The trainer was back on the court at the end of the set for Haase, who broke Roddick's serve twice and made the shot of the tournament so far — chasing down a lob and flicking a backhand over the net while facing the back of the court.
"He was playing great early on," Roddick conceded. "The biggest thing was just to turn it around in the second set."
Djokovic, the 2008 Australian Open champion, was leading Viktor Troicki 6-2 when his Serbian Davis Cup teammate retired because of a strained stomach muscle. Djokovic will next play No. 14 Nicolas Almagro, who beat No. 17 Ivan Ljubicic 6-4, 7-6 (8), 6-3.
"It's not really the way you want to win," Djokovic said.
No. 9 Fernando Verdasco advanced with a 6-2, 6-4, 6-3 win over Kei Nishikori of Japan, setting up a match against Berdych in the fourth round. Berdych beat Richard Gasquet of France 6-2, 7-6 (3), 6-2.
Stanislas Wawrinka of Switzerland defeated No. 12 Gael Monfils 7-6 (4), 6-2, 6-3, breaking the Frenchman in the last game. Warwinka will play Roddick in the fourth round.