Murray, Scarver combine for 30; Texas Southern romps into title game, 73-61 over Alabama St.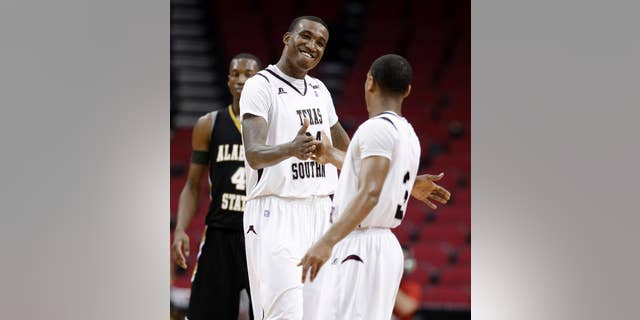 HOUSTON – Aaric Murray scored 16 points — all but one after halftime — D.D. Scarver added 14 and Madarious Gibbs 12 as second-seeded Texas Southern bolted to an early lead and defeated the No. 3 seed Alabama State 73-61 in a Southwest Conference tournament semifinal on Friday.
The Tigers (18-14), winners of eight in a row, advance to Saturday's title game.
After gaining the lead for good just six minutes in, Texas Southern survived 18 turnovers, and nine Alabama State steals to lead comfortably throughout, shooting 50 percent. Scarver, a freshman who didn't play until February, scored 11 after halftime with eight rebounds. Gibbs scored 10 in the second half with seven assists.
Jamel Waters led the Hornets (19-12) with 21 points.
The Tigers scored 11 of 14 at the line in the last 3 minutes, Murray sinking 7 of 8 in that span.