Murphy 'really impressed' by Kennedy in 12-K performance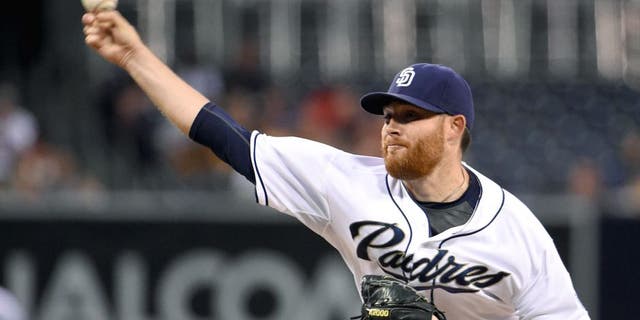 NEWYou can now listen to Fox News articles!
Pat Murphy has seen Ian Kennedy put together some impressive outings since he took over as the Padres' interim manager, but Kennedy's latest gem was likely the most dominant Murphy's seen from the dugout.
"His fastball, he has great command and it plays up. You saw what he did against real special hitters. It was a heck of a day." Murphy said. "Really impressed with him -- really impressed."
Kennedy allowed two earned runs on five hits while striking out 12 Texas Rangers batters over seven frames. His dozen strikeouts were the most he's recorded in a start since May 8 of last year.
"It goes back to fastball command," Kennedy said of his dominance. "[Austin Hedges] and I were on the same page for most of the game. We talked pretty much every time I came into the dugout -- what my approach is. It's nice when you and your catcher do that, and [Derek Norris] does the same thing. It was just good fastball command and I got the curveball over for strikes and down for balls to get swings and misses."
Despite Kennedy's strong effort, the Padres' bullpen couldn't hold the 3-2 lead he established and San Diego lost the game, 4-3, in 10 innings.
"It's a tough one we lost," the 30-year-old right-hander said.
While Kennedy was shorted his ninth win of the season on Wednesday, he's grown all too accustomed to leaving quality outings winless.
In 10 of the last 11 starts in which Kennedy has received a loss or no decision, he has surrendered three or fewer earned runs.
(h/t San Diego Union-Tribune)