Multiple injuries have Spartans shifting offensive line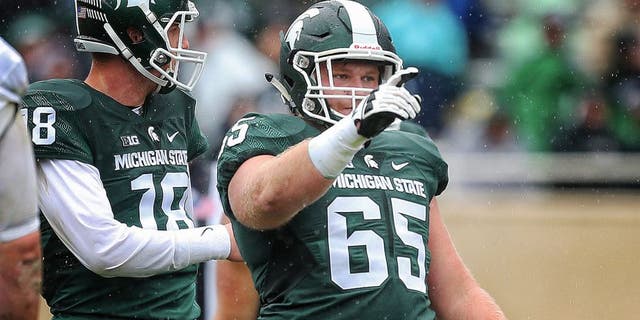 NEWYou can now listen to Fox News articles!
By the end of Michigan State's 24-21 win over Purdue was over last Saturday, the Spartans were without their top three offensive tackles.
Head coach Mark Dantonio told reporters after the game, Dennis Finley, will not return this season after suffering multiple leg fractures against the Boilermakers.
"That's another thing I guess you have to add when you talk about the football game," Dantonio said. "When you lose a young man like that, obviously, it's tough for him and tough for the football team, but really tough for him and his family."
Finley was playing left tackle in place of Jack Conklin, who joined starting right tackle Kodi Kieler on the sidelines Saturday. Exactly when Conklin or Kieler might return is uncertain, but both are expected back at some point because Dantonio's general policy is to only comment about season-ending injuries and he has not declared either out for the year.
After Finley went down, center Jack Allen moved to left tackle and his brother, Brian, moved to center. David Beedle replaced Brian Allen at guard while Donovan Clark remained in Kieler's spot at right tackle and Benny McGowan filled out the lineup at right guard.
"This week, Coach did a good job of rotating the whole line through and jumping from left to right, having everyone play at almost every position," Jack Allen said. "So I think we were ready."
Reserves Miguel Machado and Brandon Clemons also saw some time, and no matter the lineup the group seemed to be effective as the Spartans ran the ball well and quarterback Connor Cook was not sacked.
"We played a bunch of players out there on the offensive line in different places and we were able to run the football pretty effectively with (267 yards)," Dantonio said. "That was a big, big positive during this football game. I don't think we had any sacks."