Mullen discusses Bulldogs' struggles to get the ground game going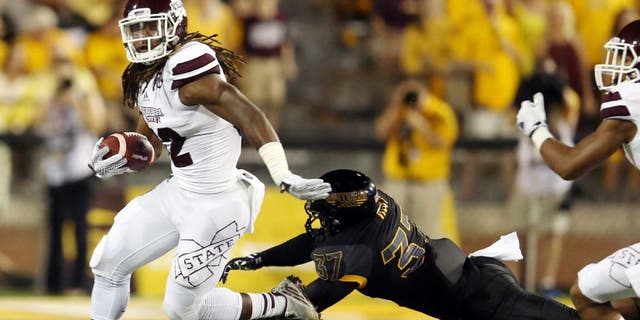 NEWYou can now listen to Fox News articles!
Five games into the season and Mississippi State ranks 11th in the SEC in rushing after finishing 2014 ranked behind only Georgia and Auburn in yards gained on the ground. So what's missing from the offense?
The obvious answer is running back Josh Robinson, who left school early and took his 1,200 yards of production with him. Considering Dak Prescott currently leads the team in rushing, it's safe to say no running back has yet to set up and seize the job to this point.
I don't know that one's jumped out or one's fallen behind," head coach Dan Mullen recently said of his running backs. "I don't know if anyone is ahead or fallen behind. All those guys, we're going to keep playing them."
Junior Ashton Shumpert was given the initial opportunity to replace Robinson and has 145 yards on 36 carries, while fellow junior Brandon Holloway has done more with less, as he has 139 yards on only 23 carries.
Mississippi State's passing offense has played well thus far, currently ranked third in the league, but Mullen fears becoming to one-dimensional on offense.
"I want to be balanced. If you look throughout the years, I want to be balanced," Mullen said. "There are years when we run more than we throw. Sometimes that' s personnel or game situation.
"In the end, an ideal day is 50-50 run-pass, 40-something points and 500 yards with a pretty even balance between the two. You'll be feeling pretty good about the offense when that happens."
MORE NEWS: Want stories delivered to you? Sign up for our College Football newsletters.