Muhammad Wilkerson rips Jets defense: 'Guys were loafing'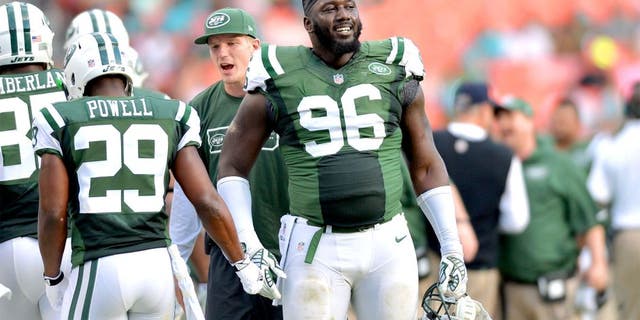 Muhammad Wilkerson wasn't pleased with the way his defense played Sunday. Steve Mitchell USA TODAY Sports
For the second consecutive week, the New York Jets defense was torched. First it was Tom Brady and the Patriots, then it was Derek Carr and the Raiders.
Following the loss, veteran linebacker David Harris called out his teammates for the "disgusting" performance on defense, and he wasn't alone in thinking that way.
On Tuesday, Muhammad Wilkerson echoed Harris' comments.
"Guys were loafing," Wilkerson said Tuesday on WFAN with Joe Benigno and Evan Roberts. "Guys thinking that somebody's going to make the play, and then he doesn't make the play, so then it's a change of speed."
The Jets missed a league-high 19 tackles on Sunday according to Pro Football Focus, six of which came from Marcus Williams at safety. It was an overall poor effort by the defense in just about every way, and they can't afford to play that way again this week against the Jaguars.
"Playing at this level, there's no reason why we keep missing tackles," he said. "Basically, if you're seeing missed tackles, it's not the impression that we didn't want to play. It's just -- we're doing a bad job."
Harris guaranteed it wouldn't happen again, so they'll look to change their struggling way on Sunday. We'll see if it actually happens or if they'll continue to "loaf" on defense.
MORE NEWS: Want stories delivered to you? Sign up for our NFL newsletters.