Muhammad Ali's legendary trainer Angelo Dundee dies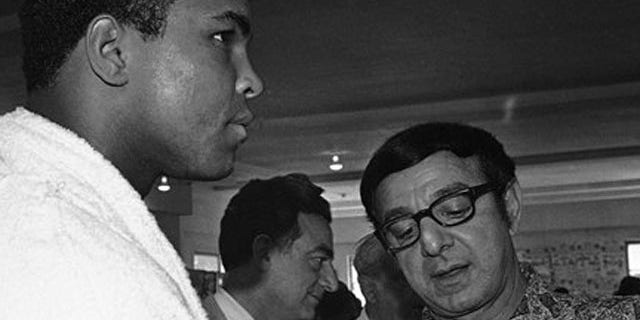 TAMPA, Fla. – Angelo Dundee, the cornerman who trained boxing legend Muhammad Ali, died at his Florida home Wednesday aged 90.
The International Hall of Fame member, who also honed the fighting skills of 14 other world champions, "died suddenly and peacefully surrounded by family and friends," boxing industry identity Rachel Charles told Fightnews.com.
"He was very happy he was able to celebrate Muhammad Ali's birthday [and] was able to attend the Boxing Hall of Fame. He still had a lot to do but led a full and extraordinary life," said Charles, a friend of Dundee.
As well as Ali -- who turned 70 last month -- Dundee trained George Foreman, Willie Pastrano, Sugar Ray Leonard and Jose Napoles, among other big names.
The son of Italian immigrants, Dundee was born Aug. 30, 1921, in Philadelphia.
Hours before he died Wednesday, Dundee was still enthusiastically talking about boxing with The Wall Street Journal, including about the match-up between Floyd Mayweather Jr. and Miguel Cotto scheduled for May 5 in Las Vegas.
"It is a great bout," Dundee said, "but for the good of boxing, the winner has to fight [Manny Pacquiao]."
Hired as a consultant to get Hollywood star Russell Crowe fit for his role in "Cinderella Man" in 2005, Dundee ended up playing a small role as "Angelo the Cornerman" in the film. In addition, actor Ron Silver played Dundee in "Ali" in 2001.
A Facebook page set up by fans of Dundee posted a message Wednesday night, farewelling the iconic trainer.
"Very sad day, R.I.P, my friend...God must have needed a cornerman," the message said.