Moves aplenty at baseball's winter meetings; Tigers send Porcello to Red Sox for Céspedes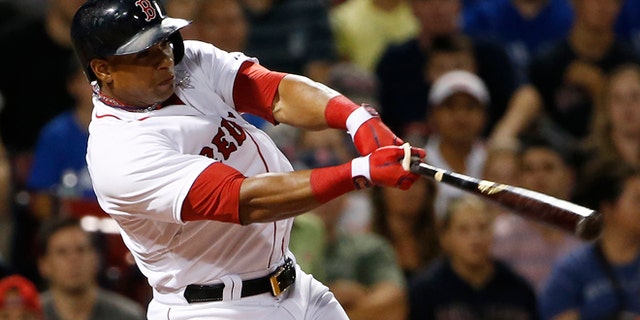 It's been a busy winter meetings for Major League Baseball general managers.
On Thursday, the Detroit Tigers announced that they had sent starting pitcher Rick Porcello to the Boston Red Sox for the Cuban outfielder Yoenis Céspedes. Pitchers Alex Wilson and Gabe Speier also went to Detroit as part of the trade.
The Red Sox acquired Céspedes in July in the deal that sent Jon Lester to Oakland. Céspedes finished the year with a .260 average, 22 home runs and 100 RBIs.
The 29-year-old Céspedes gives Detroit another power-hitting presence in the middle of its lineup, along with Miguel Cabrera and Victor Martínez, but the slugger came at a significant price. Porcello does not turn 26 until later this month, and he is coming off a season in which he set career bests with 15 wins, a 3.43 ERA and 204 2/3 innings pitched.
The Miami Marlins, fresh off deals that brought in second baseman Dee Gordon from Los Angeles and pitcher Mat Latos from Cincinnati, shipped lefty reliever Dan Jennings to the Chicago White Sox for 26-year-old Andre Rienzo, only the second Brazilian-born big league player and the first pitcher.
In 2014, Rienzo split his time between the White Sox and the team's triple-A affiliate, ending up with a 4-5, 6.82 ERA record in Chicago.
Céspedes and Porcello could both become free agents after next season. Céspedes will make $10.5 million in 2015. Porcello is arbitration eligible after making $8.5 million this year.
Detroit already made one addition to its outfield this offseason, acquiring speedy center fielder Anthony Gose from Toronto. Céspedes joins a group of outfielders that also includes J.D. Martínez and Rajai Davis. If J.D. Martínez can repeat his 23-homer performance of 2014, the Tigers should have plenty of power threats.
The Red Sox were in the market for pitching after they were unable to bring Lester back as a free agent, and Porcello brings plenty of experience. He made his debut with Detroit in 2009 as a 20-year-old, and he's been a mainstay in the Tigers' rotation ever since.
Porcello has held hitters to a 53 percent groundball-to-flyout rate, a skill that may be more useful at Fenway Park than in Detroit.
Based on reporting by the Associated Press.
Like us on Facebook
Follow us on Twitter & Instagram